BLUETTI EB3A Portable Power Station | 600W 268Wh
---
600W AC Pure Sine Wave Inverter (1.200W surge);
268Wh Capacity;
430W Max. Fast Dual Charging (Solar+AC);
LiFePO4 Battery with 2.500+ Life Cycles to 80%;
6 Ways to Recharge (AC/Solar/Car/Generator/AC+Solar/AC+Adapter);
8 Outputs for Charging Multiple Devices at once;
Smart Control & Monitor in BLUETTI App;
200W Max. Solar Input;
Easy to Carry/ Fast Charging/ Safe & Reliable/ Cost-effective
---
You can earn BLUETTI BUCKS (Value about €) for completing your purchase!
---
30 Days Price Match Guarantee
BLUETTI guarantees that we will refund you the difference if you find a lower price from us within 30 days of your purchase.
Notes:(To get the price differences for your order, the following requirements must be met)
1. Valid purchase history within 30 days.
2. Take a screenshot of the lower price and email us, we'll refund the differences as soon as we confirmed it.
---
2-year Hassle Free
Warranty
Portable Power for A Sustainable Lifestyle
Designed to be more energy-efficient than traditional generators, BLUETTI EB3A is so light in terms of weight, doing its part to help you reduce carbon emissions to the environment.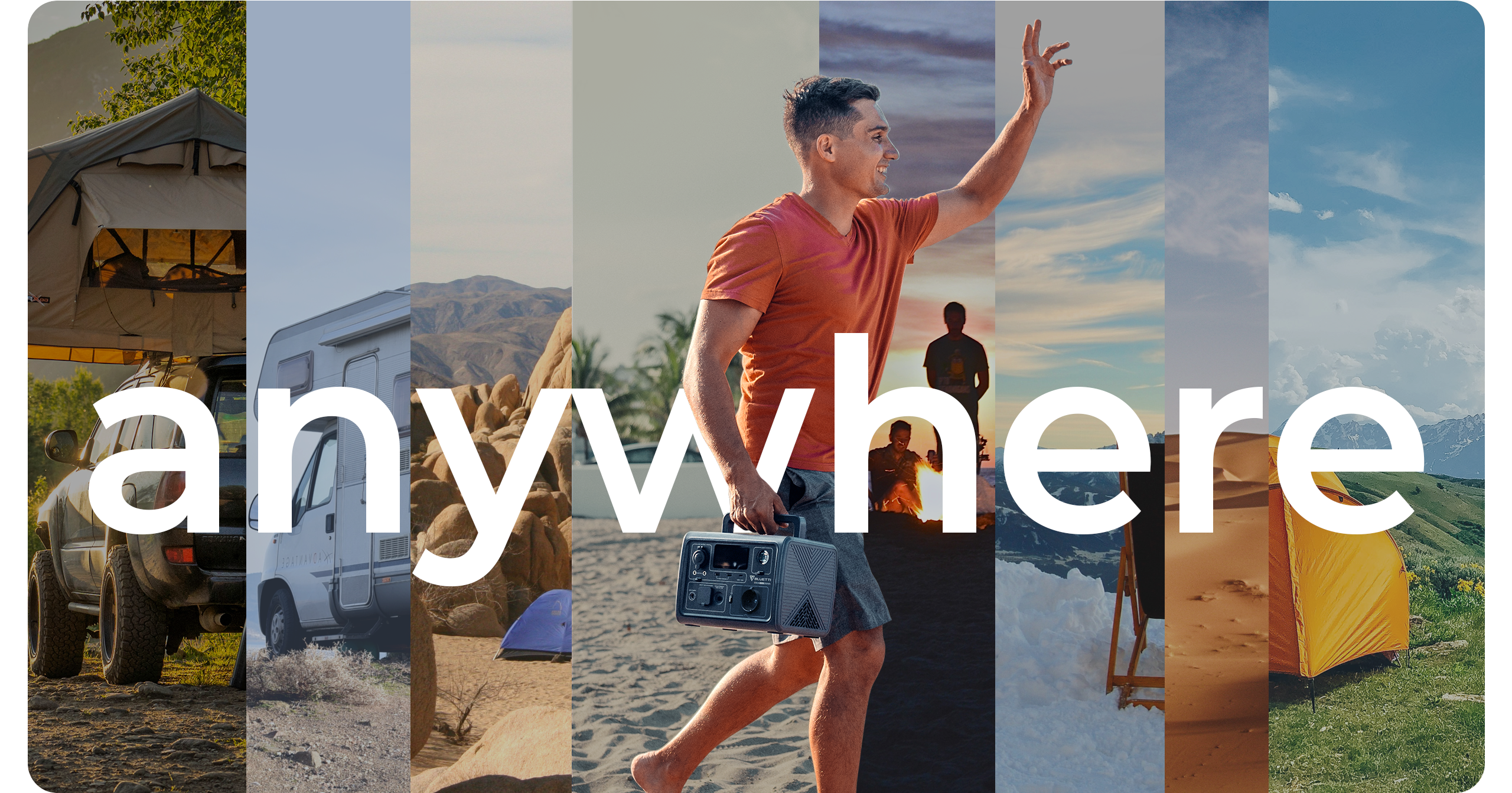 Small but in Charge
EB3A is compact enough, but you can count on it with big jobs. Whether it be small blender, mini rice cooker or small refrigerator, EB3A gets you all covered thanks to the 600W AC Pure Sine Wave Inverter (1.200W surge) and an impressive 268Wh capacity.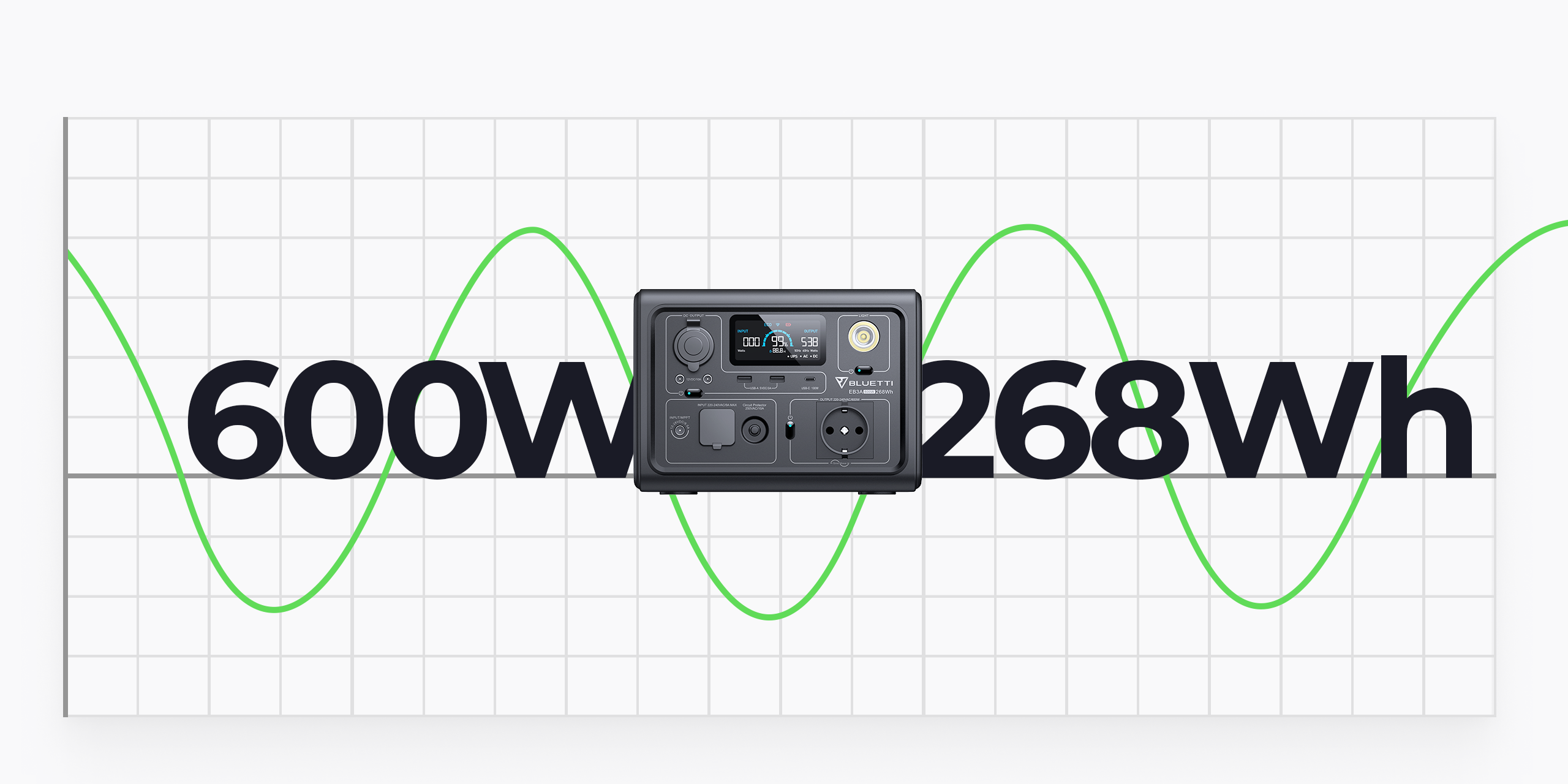 80% Charge in 40 Minutes
EB3A features 430W Fast Charging that enables an 80% charge in the time it takes you to drink a cup of coffee or have a chitchat, providing sufficient power on demand.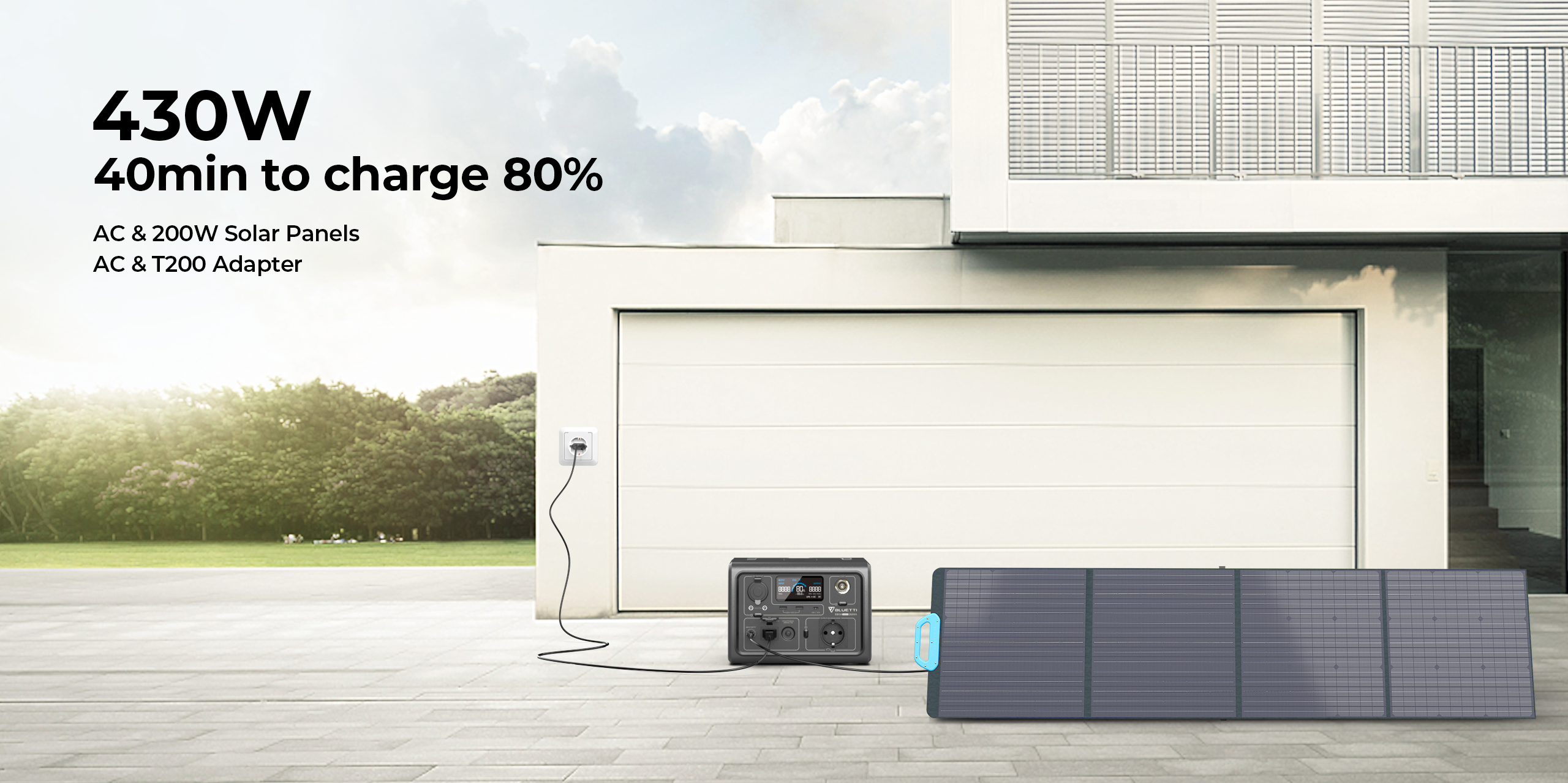 6 Ways to Recharge
Go for an off-grid living anytime from RV camping to wilderness exploration with no fear of losing power. BLUETTI EB3A can be recharged in every way possible, either via AC, solar panels, car, generator, AC+Solar, or AC+Adapter, leaving you only peace of mind on the road.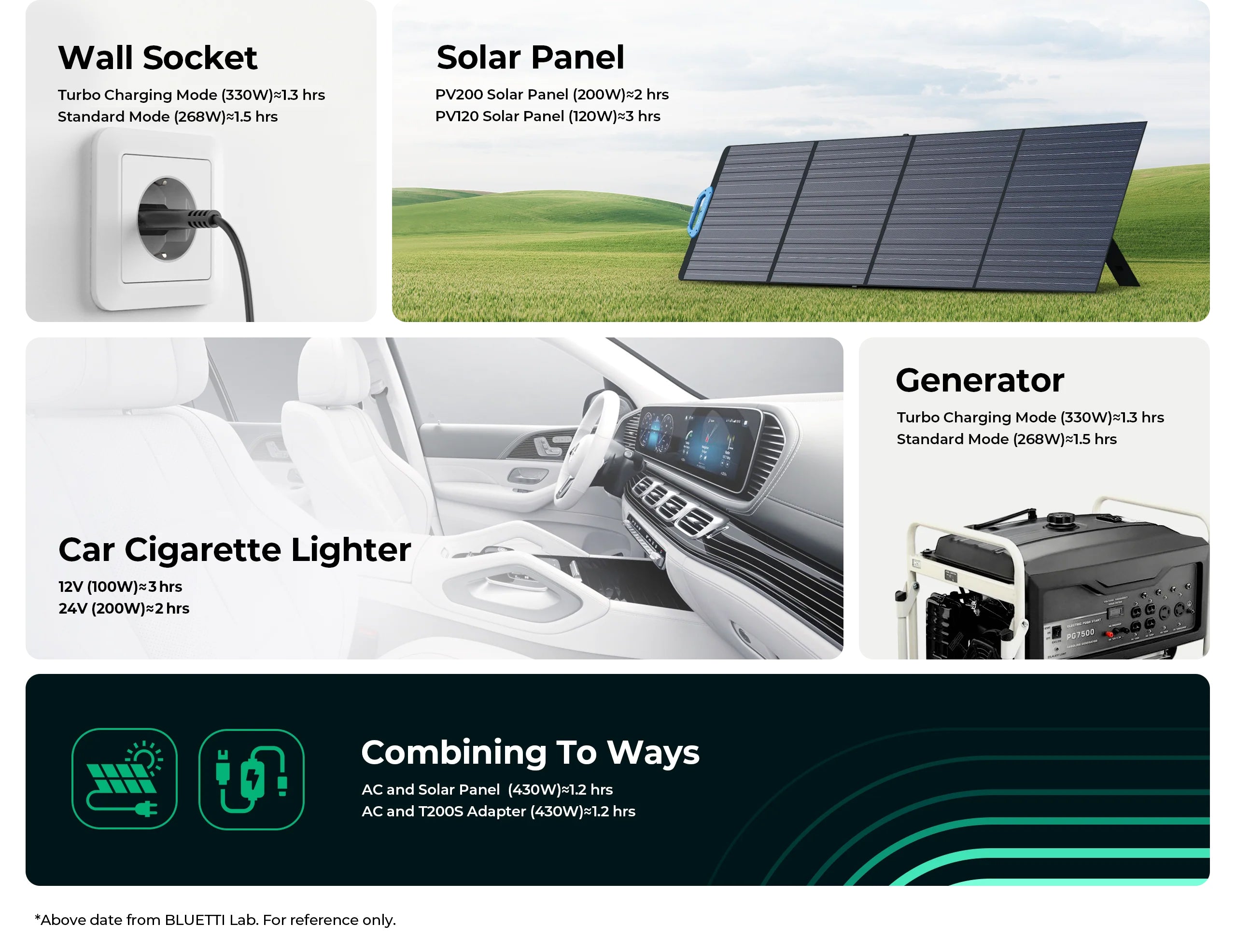 Safety Is in Detail
Experience increased safety brought by LiFePO4 battery and BMS (Battery Management System). Compared to traditional Lithium-ion cells, the LiFePO4 battery EB3A adopts possesses a natural advantage due to its remarkable thermal and chemical stability, giving you better performance and longer life cycle (2.500 cycles to 80%). While BMS is at all times monitoring and protecting your device from every potential risk.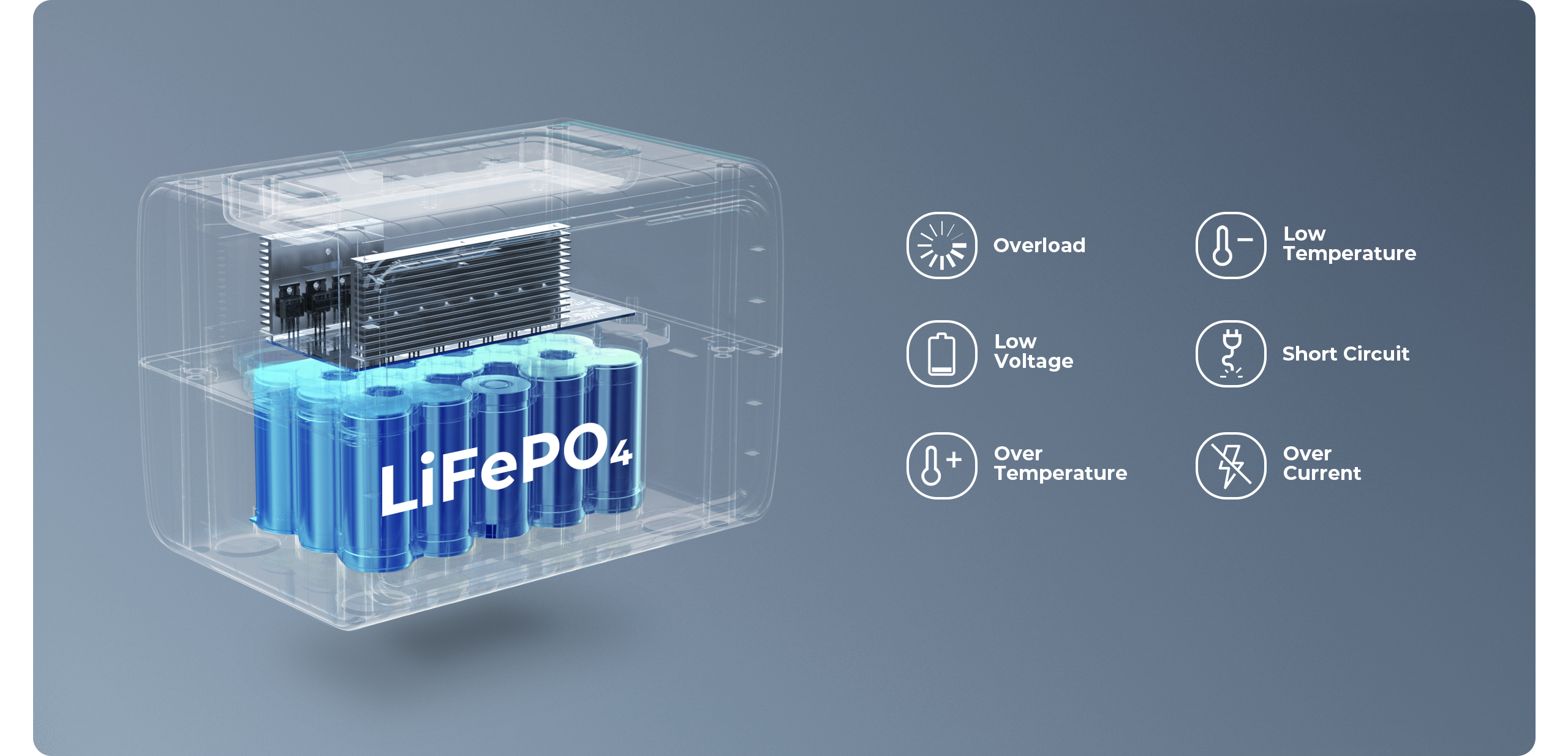 8 Outlets for Every Need
Flexible charging capability accommodates a wide range of charging needs. No more vying with family or friends for a quick charge. EB3A has enough ports for a simultaneous charging, classic AC and DC output, 100W Type-C, car socket, even wireless charger. Everyone will be taken good care of, regardless you're at home or staying outside.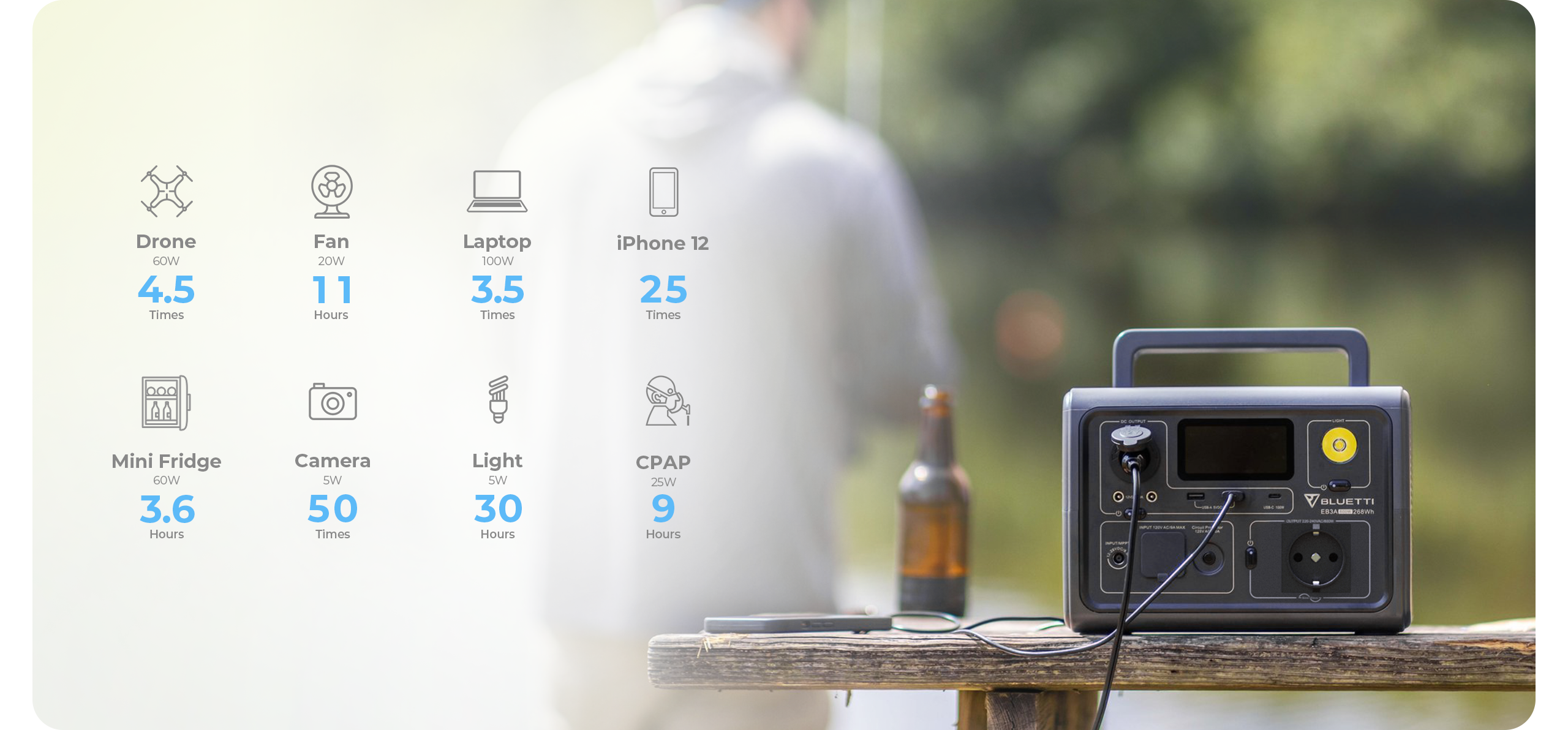 Stay Connected with BLUETTI APP
The intuitive APP offers a truly convenient experience at your fingertips, giving you quicker access to EB3A through Bluetooth within a radius of 10m and keeping it under your control around the clock.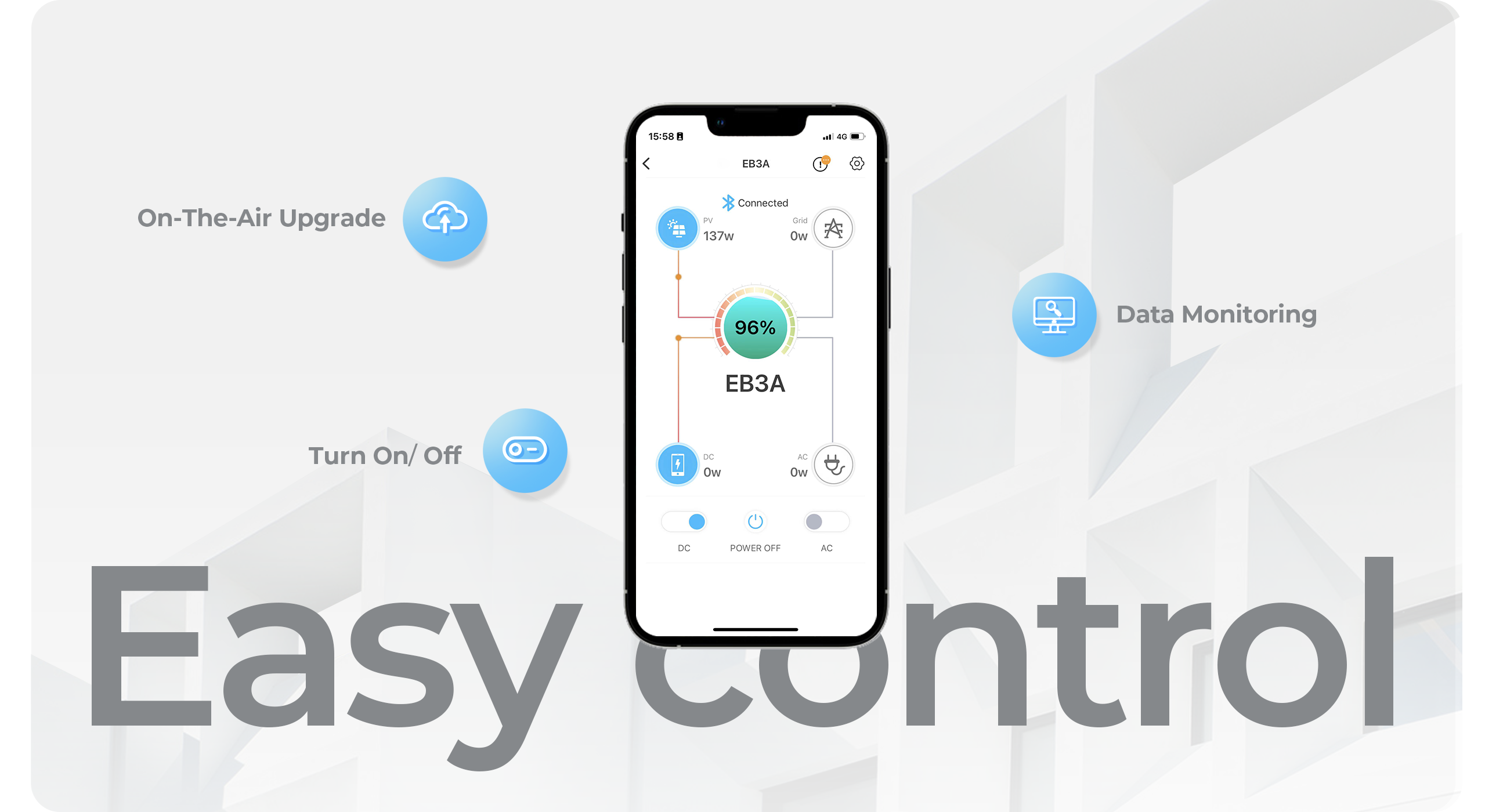 Specifications
BATTERY INFO
---
2.500+ Cycles to 80% Original Capacity
---
Recharge to 80% Every 3-6 Months
---
MPPT Controller, BMS, etc.
---
OUTPUT
---
1 x 220V-240V/2,6A Outlets,
600W In Total
---
1 x 12V/10A (Car Outlet)
2 x 12V/10A DC 5521 (5,5mm Outlets)
*All Regulated.
---
INPUT
---
AC Charging Cable (Standard Mode):
---
AC Charging Cable (Turbo Mode):
---
200W Max, VOC 12-28VDC/ 8,5A
---
12/24V from Cigarette Lighter Port (8,5A Max.)
---
430W, with AC and Solar Input Simultaneously
---
RECHARGE TIME
---
AC Charging Cable (Trubo Mode 350W):
---
AC Charging Cable (Standard Mode 268W):
---
≈1,8-2,3 Hours (With prime sunshine, ideal orientation and low temperature)
---
12V/24V Car Outlet (102W/204W):
≈3,1-3,6 or 1,5-1,8 Hours
---
≈1,1-1,6 Hours (With prime sunshine, ideal orientation and low temperature)
---
≈1,1~1,6 Hours (With optional BLUETTTI T200S Adapter)
---
GENERAL
---
10,04*7,09*7,20in/255*180*183mm
---
UL2743, UKCA, TELEC, PSE, NTC, RCM, KC, FCC ID, CE
---
In The Box
BLUETTI EB3A Portable Power Station | 600W 268Wh MANUAL
Download Now
A good solution for audiophile.
A lot user of streamer an DAC have difficulties to remove the noise that pollutes the USB signal. One alimentation on battery solves the situation. I use my EB3A with my streamer and my ethernet switch. so the digital equipment are isolated of the Analogique one. With the 12V output, the EB3A gives 10W near 16h.
Great product
Using this battery bank as a UPS for my homelab server. Works great and much cheaper than a UPS.
EB3A review using during holidays with the vw t5 bus
My first acquaintance bluetti product with the pv120 solar panel. Charging on 220v on grid is real fast, not fully tested yet with the pv120 or 12v input system.
220v output works great. 900w nespresso machine took 23% capacity. Also used the Dometic CFF35 compressor coolbox at 12v during traveling with my bus. Whole day 10 hours journey took 80% capacity. For now l'm satisfied, since this was a tryout. For the next holiday l'll buy a bigger system, probably the ac200max & b300 & 2*pv200
Seems good product buying one and I will reflect in the future how the station work
Nice and portable.
Good purchase. We are waiting for a hard winter in Kyiv. It was very quickly delivered in the summer. This is the second station we have bought.