BLUETTI AC60 Portable Power Station | 600W 403Wh
---
Industry-leading 6-year Warranty
IP65-rated Dustproof & Water-resistant
Expandable Capacity From 403Wh to 2.015Wh
Turbo Charging to 100% in 1 Hour
LiFePO4 Battery with 3.000+ Life Cycles to 80%
4 Ways to Recharge (AC/Solar/Car/Lead-acid battery)
Easy & Remote Control via BLUETTI App
---
You can earn BLUETTI BUCKS (Value about €) for completing your purchase!
---
30 Days Price Match Guarantee
BLUETTI guarantees that we will refund you the difference if you find a lower price from us within 30 days of your purchase.
Notes:(To get the price differences for your order, the following requirements must be met)
1. Valid purchase history within 30 days.
2. Take a screenshot of the lower price and email us, we'll refund the differences as soon as we confirmed it.
---
6-year Hassle Free
Warranty
Water-resistant Solar Generator AC60
BLUETTI AC60 is made with significant upgrades in terms of features and capabilities, such as an IP65 rating for water and dust protection, <45dB quiet operation, expandable capacity of up to 2.015Wh, and more. It's an ideal powerhouse for your outdoor adventures and home emergency backup.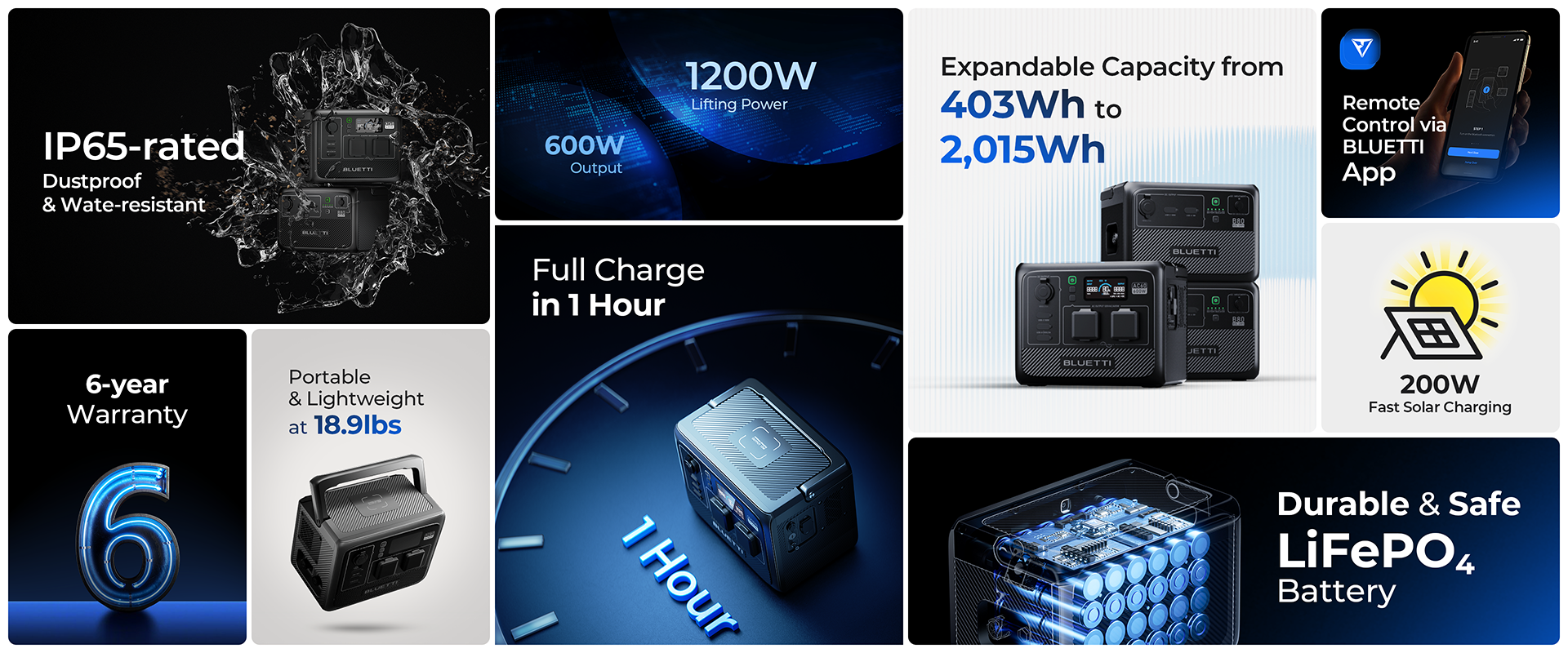 Why a 6-year Warranty?
The ultra-long warranty is BLUETTI's promise of product and service excellence, and a reflection of the AC60's leap forward in every way. The AC60 boasts premium materials that ensure its longevity, including a solid aluminum alloy casing and a durable LiFePO4 battery with a lifespan of over 10 years. Additionally, the unique design of the AC60 keeps water and dust out by isolating circuits from fan vents and sealing all outlets with waterproof rubber. Moreover, the AC60 features advanced technology such as an intelligent BMS, efficient MPPT controller, and Power Lifting technology to ensure optimal performance without any failures.
Power Anywhere, On the Road or Water
The AC60 is the world's first IP65-rated portable power station to be water-resistant and dust-proof. Compact at 20.06lbs, it is easy to carry and can provide power anywhere, anytime. From dusty deserts to lakesides, in sunshine or rain, you'll have peace of mind.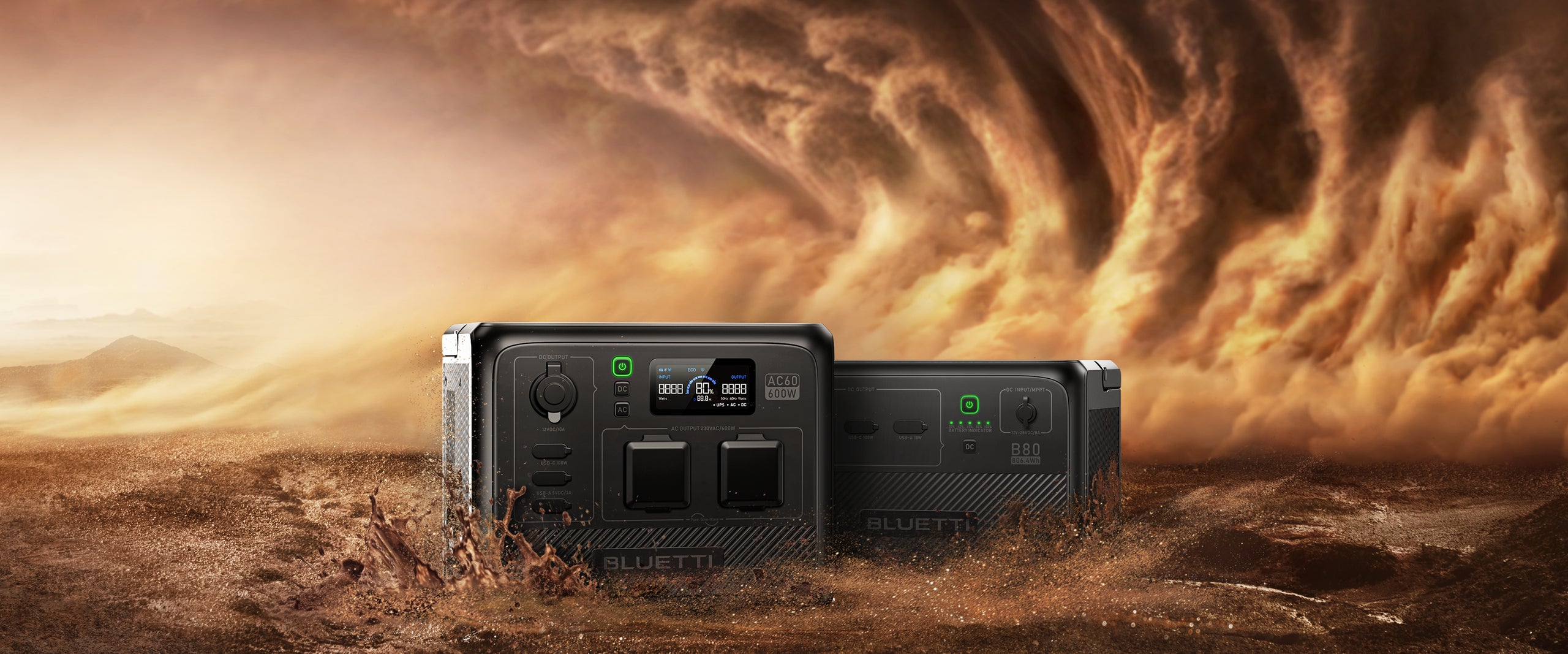 Tiny, But Mighty
Sporting industry-leading Power Lifting technology*, AC60 can deliver max 1.200W from its 600W inverter to power high-wattage resistive appliances such as hair dryers and grils. With 7 versatile outlets, it can power a range of devices timely, like ice-makers, fridges, electric blankets, phones, laptops, and more. Just enjoy the outdoors with the comforts of home.
* Power Lifting technology enables the operation of resistive appliances rated under 1.200W
Flexible Capacity for Longer Stay
The AC60 packs 403Wh of power into the safest LiFePO4 battery, with over 3000 cycles before reaching 80%. It can be paired with two B80 expansion batteries (806Wh each) for a total of 2.015Wh - plenty of power for short trips or long periods away from the grid. Learn about B80
here
.
Fast Charging in One Hour
Thanks to BLUETTI Turbo Charging technology, you can juice up an AC60 (403Wh) power station in just 1 hour via AC charging. When you finish packing your stuff for your outdoor adventure, the AC60 is already on standby.
Multiple Charging Ways
Besides fast wall charging, the AC60 supports solar, car, and lead-acid battery charging. With a choice of charging methods, the AC60 is always full-loaded whenever you need it.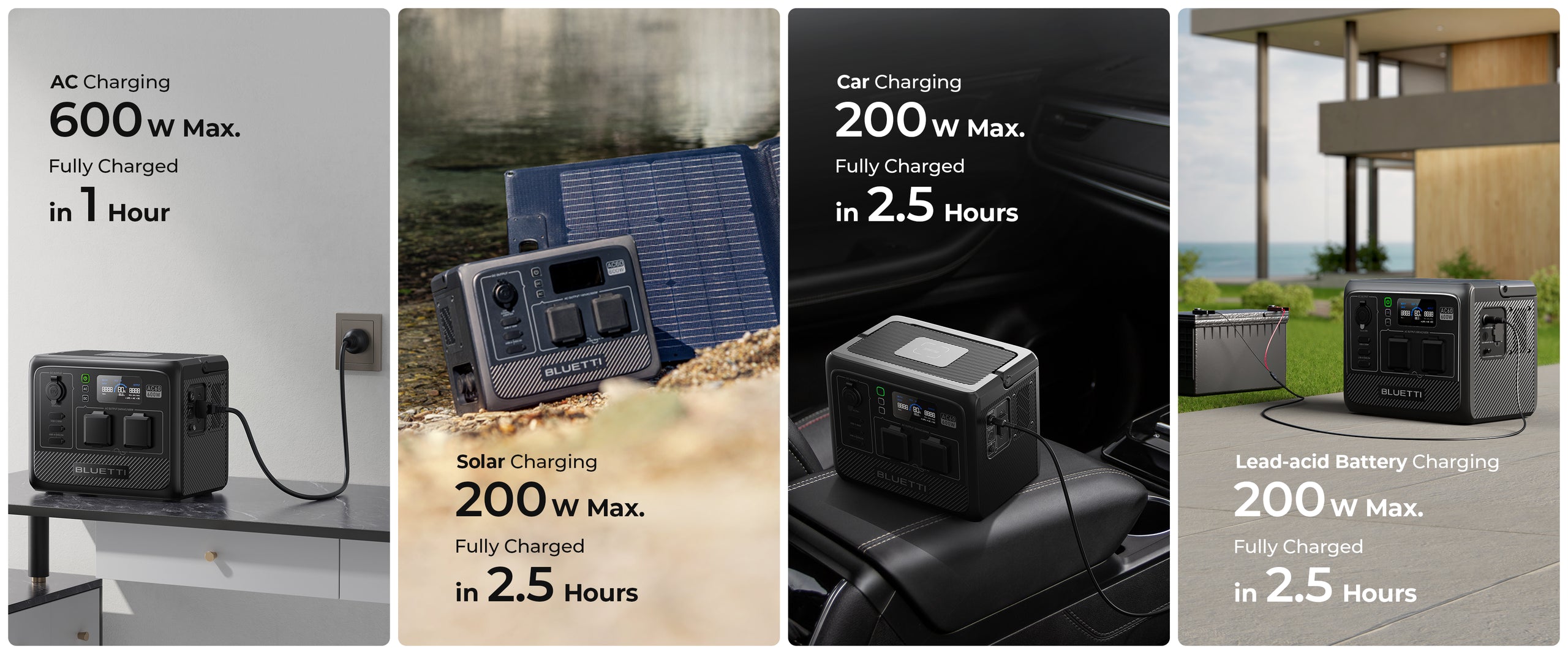 Specifications
BATTERY INFO
---
LiFePO4 (Lithium Iron Phosphate)
---
3.000+ Cycles to 80% Original Capacity
---
Recharge to 80% Every 3-6 Months
---
MPPT Controller, BMS, etc
---
OUTPUT
---
2 × 230V/2,6A, 600W in total
---
1 × 100W Max. (Built-in eMark chip)
---
1 × 12V/10A (Car outlet, regulated.)
---
INPUT
---
200W Max., VOC 12-28V, 8A
---
12/24V from Cigarette Lighter Port
---
RECHARGE TIMES
---
≈ 1-1,5 Hours (600W Turbo Charging)
---
≈ 2,5-3,0 Hours (200W Max.)
---
12V/24V Car Outlet (100W/200W)::
≈4,5-5 Hours / 2,5-3 Hours
---
GENERAL
---
290mm × 205mm × 234mm / 11,42in × 8,07in × 9,21in
---
0°C - 40°C / 32°F - 104°F
---
Discharging Temperature::
-20°C - 40°C (-20°C - 30°C: 600W Max.; 30°C - 40°C: 500W Max.)
-4°F - 104°F (-4°F - 86°F: 600W Max.; 86°F - 104°F: 500W Max.)
---
-20°C - 40°C / -4°F - 104°F
---
UKCA, PSE, RCM, CE, IP65, UL Standard
---
IN THE BOX
---
1 × BLUETTI AC60 Portable Power Station
1 × AC Charging Cable
1 × Car Charging Cable
1 × Solar Charging Cable
1 × User Manual
1 × QC Card
1 × Warranty Card
---
In The Box
BLUETTI AC60 Portable Power Station | 600W 403Wh MANUAL
Download Now
Very good product
it's a great product that I recommend and in addition it is scalable with B80 extensions. I love
Almost prefect
Almost everything about this unit is really great: Beautiful design, practical carrying handle, great output options for both AC and DC (only 5521 DC ports are missing, but since the expansion batteries also have one 12V DC car power plug too, this is not a big issue), weatherproof, reasonably silent etc. Only downside is that the AC 600W max AC output is a little low compared to the size of the unit. I would have love to see at least 800W or even 1000W or 1200W on it. That would make it able to drive many more kitchen appliances. Wifi support would also have been very nice; this should be cheap enough to implement and should just be a standard feature on all power stations above 500W in my opinion. Overall a great unit that I would definitely recommend.
Wifi
For now is doing its job but wish it was having wifi connection
Everything is ok
Everything was ok, order , delivery