BLUETTI EP760 + B500 Home Battery Backup
6.999,00 €
8.999,00 €
On sale
Tax included.
---
EP760 is estimated to ship in early November.
Early Bird Price, Up to 2000€ OFF!
Up to 7600W single-phase output for power-hungry appliances
Whopping max. 9000W solar input
Modular design with 9920Wh - 19840Wh capacity
Industry-leading 10 years warranty
Unparalleled safety with LiFePO₄ battery
Perfect compatibility with existing/new solar system
Ultimate convenience for quick installation
---
You can earn BLUETTI BUCKS (Value about €) for completing your purchase!
---
10 Years Hassle Free
Warranty
Join the Energy Revolution
The BLUETTI EP760 isn't just an energy storage system; it's key to slashing energy costs during peak hours, securing uninterrupted power during outages, and embarking on a journey toward an off-grid living style. The easy installation of EP760 ensures great convenience to access power freedom without spending a lot of time and money.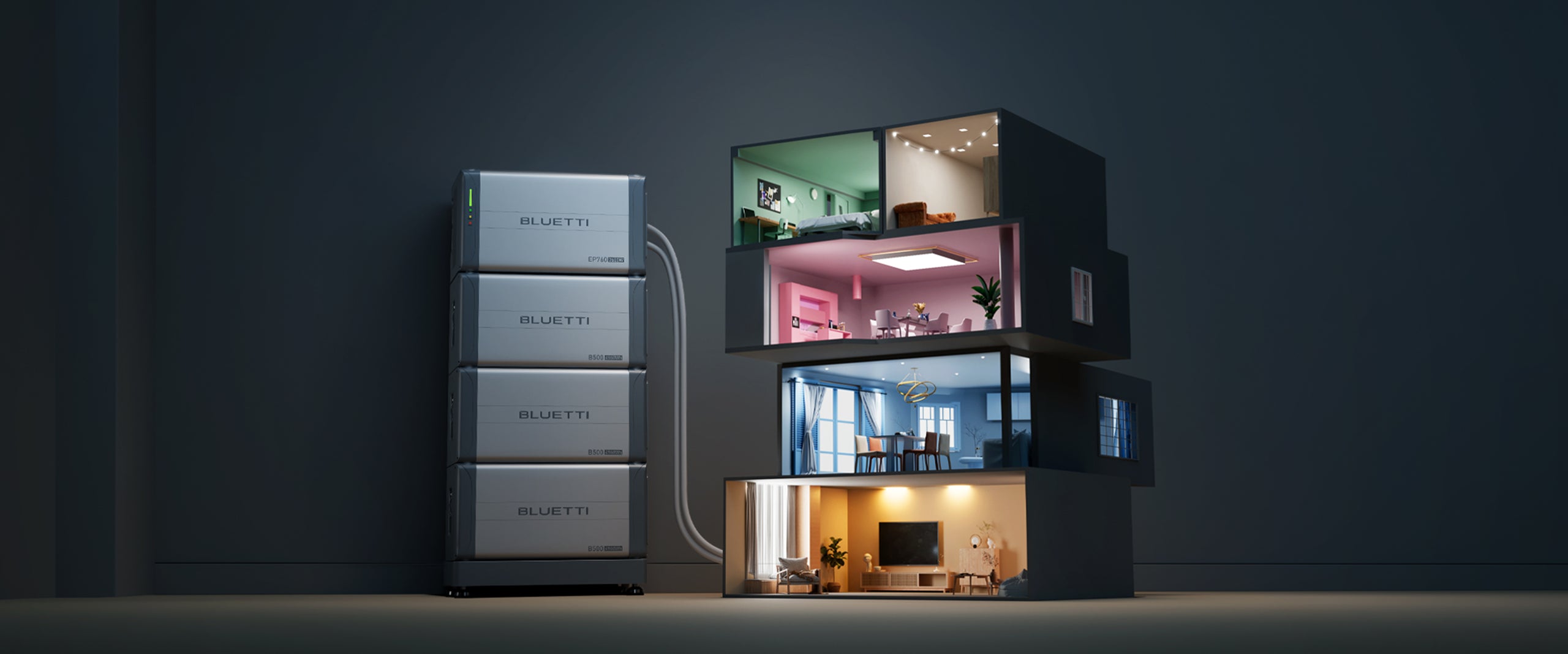 Efficient Power Management Made Easy
Integrate BLUETTI EP760 with your existing rooftop solar panels to harness free solar energy on sunny days, and power your appliances with unparalleled efficiency, even during the night or rainy days. By transforming from a power consumer to a power producer, you can take charge of your energy consumption like never before, thus significantly reducing your electricity bills.
Elegant & Durable
The BLUETTI EP760 comes with a robust IP65 rating, making it resistant to dust or moisture, ensuring unwavering performance even in your basement. Furthermore, its advanced noise reduction technology guarantees a whisper-quiet operation, with noise levels measuring less than 50 dB. Elevate your energy experience while enjoying the perfect blend of functionality and style with EP760.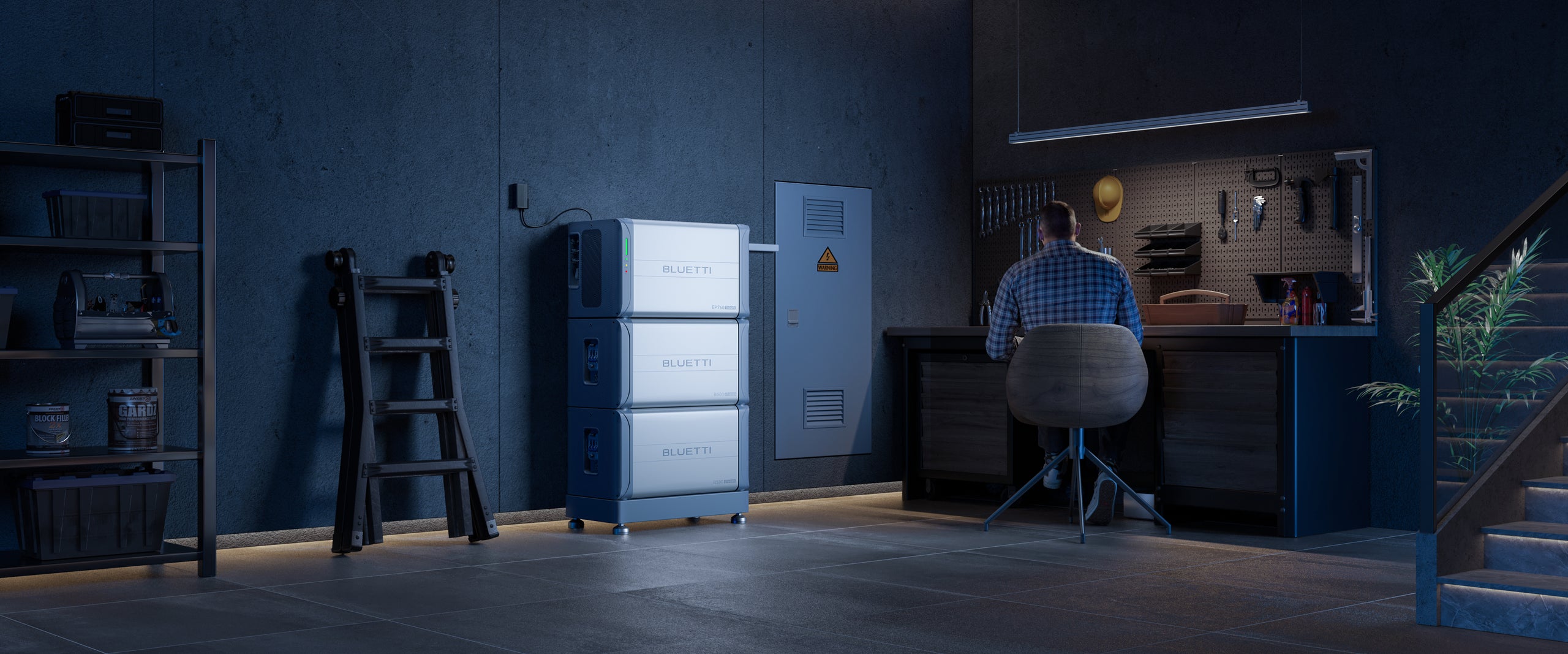 The Home Power at Your Fingertips
Everything about your EP760 is under control thanks to the intuitive BLUETTI App. Monitor real-time power consumption, seamlessly toggle between working modes, and conduct OTA updates, all from the palm of your hand, no matter where you are.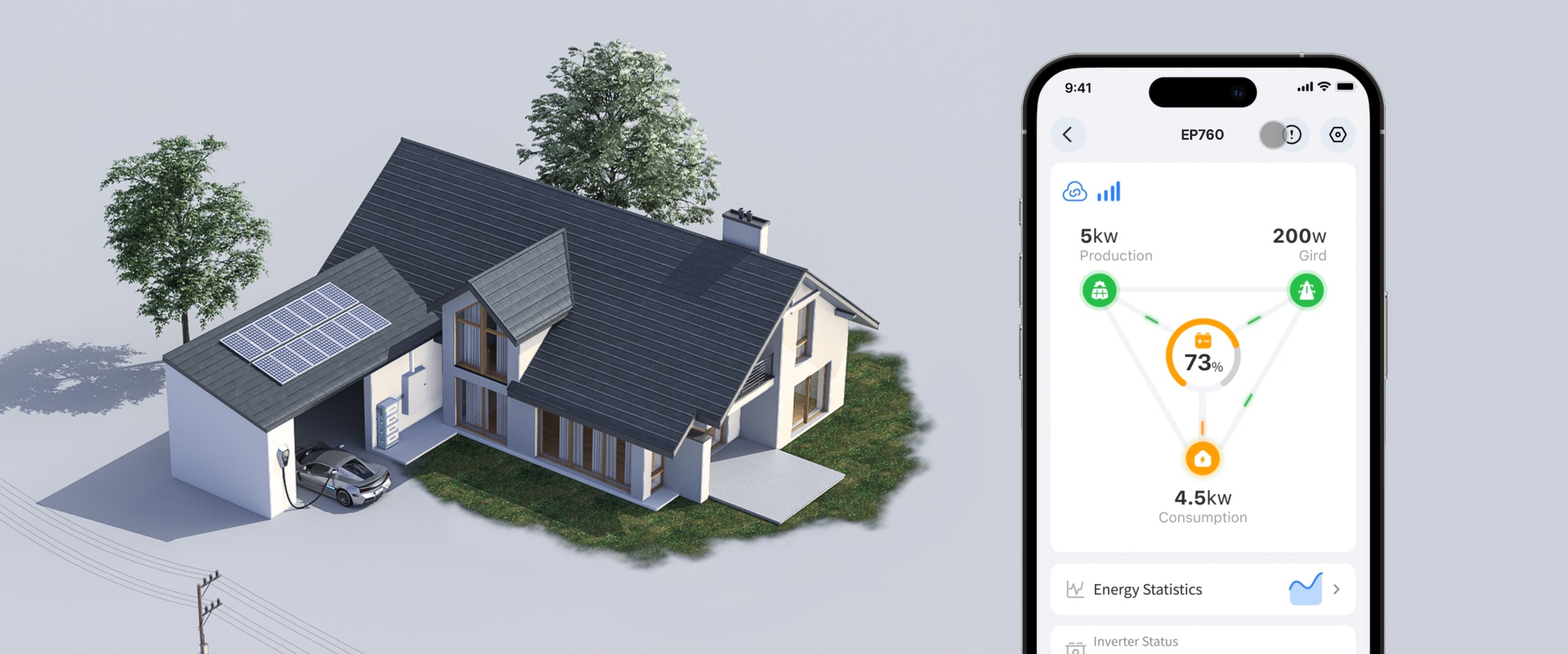 Customize Your Power Plant
By stacking 2 to 4 B500 expansion batteries (4960Wh each) on the bottom, you can tailor a capacity of 9,9kWh to 19.8kWh according to your needs. Also, the EP760 inverter delivers an awe-inspiring output of up to 7600W to energize your appliances effortlessly.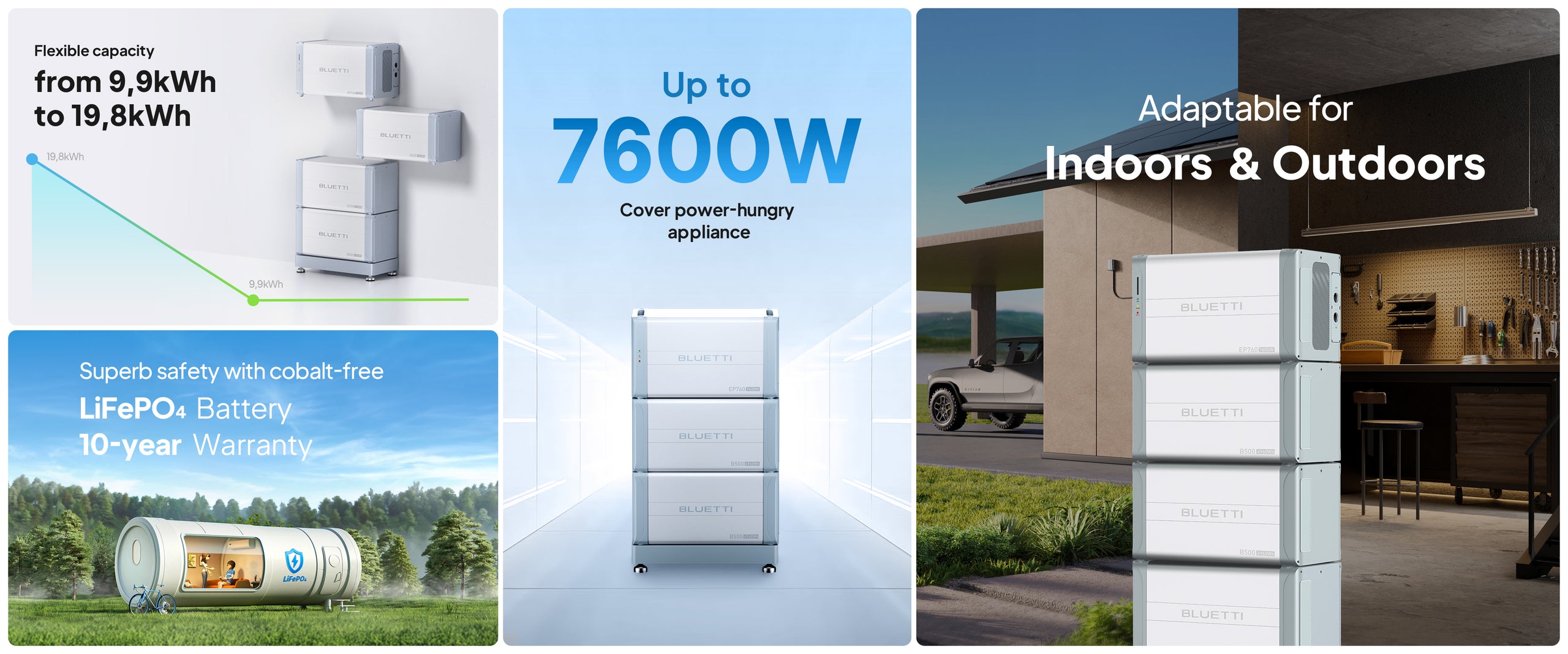 Specifications
EP760 Inverter (General)
---
9,9kWh~19,8kWh
(W/ 1 EP760 & 2-4 B500)
---
25,0 × 12,8 × 14,6inch /
636 × 325 × 370mm
---
BLUETTI App (WiFi/Bluetooth)
---
EP760 (PV INPUT)
---
9.000W
(3 strings: 3.000W + 3.000W + 3.000W)
---
B500 (General)
---
25,0 × 12,8 × 13,3inch / 636 × 325 × 338mm
---
CB / CE / FCC / ICES / IP65 / PSE / RCM / UKCA / UL1973 / UL9540A / UN38,3-2022
---
B500 (Battery)
---
Depth of Discharge (DoD):
---
Short-circuit Protection:
---
In The Box
BLUETTI EP760 + B500 Home Battery Backup MANUAL
Download Now
FREE CONSULTATION
GET STATE-OF-THE-ART HOME ENERGY SOLUTION & SAVE MORE.
Congratulations!
You've just taken your first step toward energy independence with BLUETTI and blue sky protection! We'll be contacting you shortly to set-up your free consultation. Get ready to make the switch!
Oops, something went wrong. Please try again later.
Cart
You can earn BLUETTI BUCKS (Value about €) for completing your purchase!
Your cart is empty
We use cookies to ensure you get the best experience. By using our website you agree to our Privacy Policy.