BLUETTI AC500 + B300S Home Battery Backup
2.300,00 €
2.800,00 €
On sale
Tax included.
---
5.000W Rated Power (10.000W Surge)
3.072Wh~18.432Wh Expandable Capacity
LiFePO₄ Battery With 3.500+ Life Cycles to 80%
Smart App Control (WiFi & Bluetooth Connection)
6 Ways to Recharge (AC/Solar/Car/Generator/Lead-acid battery/Dual AC/ AC+ Solar)
16 Versatile Outlets for 99% Devices
Tie to Home Grid for 24/7 UPS
4 Years Worry-Free Warranty
---
You can earn BLUETTI BUCKS (Value about €) for completing your purchase!
---
30 Days Price Match Guarantee
BLUETTI guarantees that we will refund you the difference if you find a lower price from us within 30 days of your purchase.
Notes:(To get the price differences for your order, the following requirements must be met)
1. Valid purchase history within 30 days.
2. Take a screenshot of the lower price and email us, we'll refund the differences as soon as we confirmed it.
---
4-year Hassle Free
Warranty
Everything You Want, All in One
AC500 & B300S, the expandable power system, will definitely shift the way you harness the solar energy. It's designed to help you go through power outages and stay connected to unlimited energy wherever you are heading.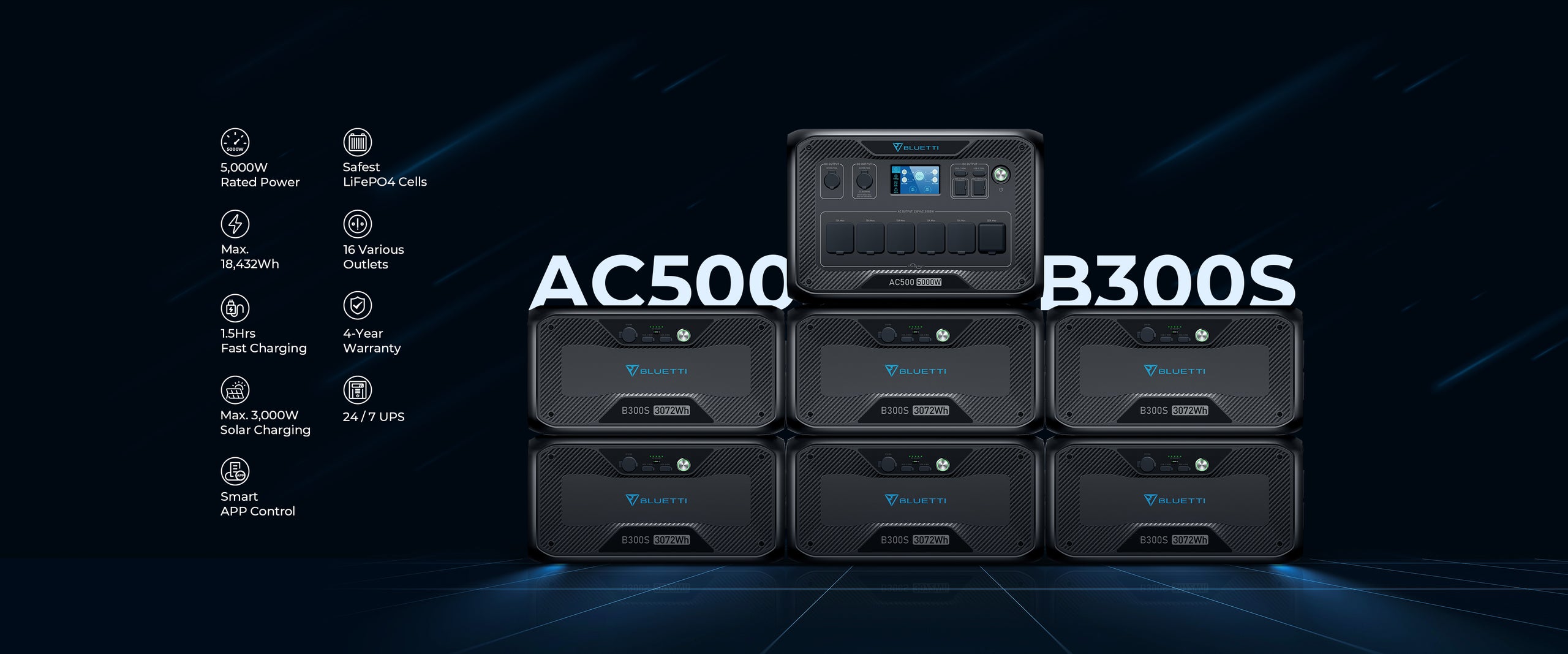 Power Option for Personalization
Thanks to the modular design, AC500 welcomes up to 6×B300S or 4× B300 (or a combination of B300 and B300S) expansion batteries for an overall capacity of 18.432Wh and 12.288Wh, respectively, covering your off-grid power needs for DAYS!

Luckily, AC300 owners who are looking for a more powerful inverter don't have to order a new bundle because the 5.000W inverter within AC500 can fulfill their demand without a doubt.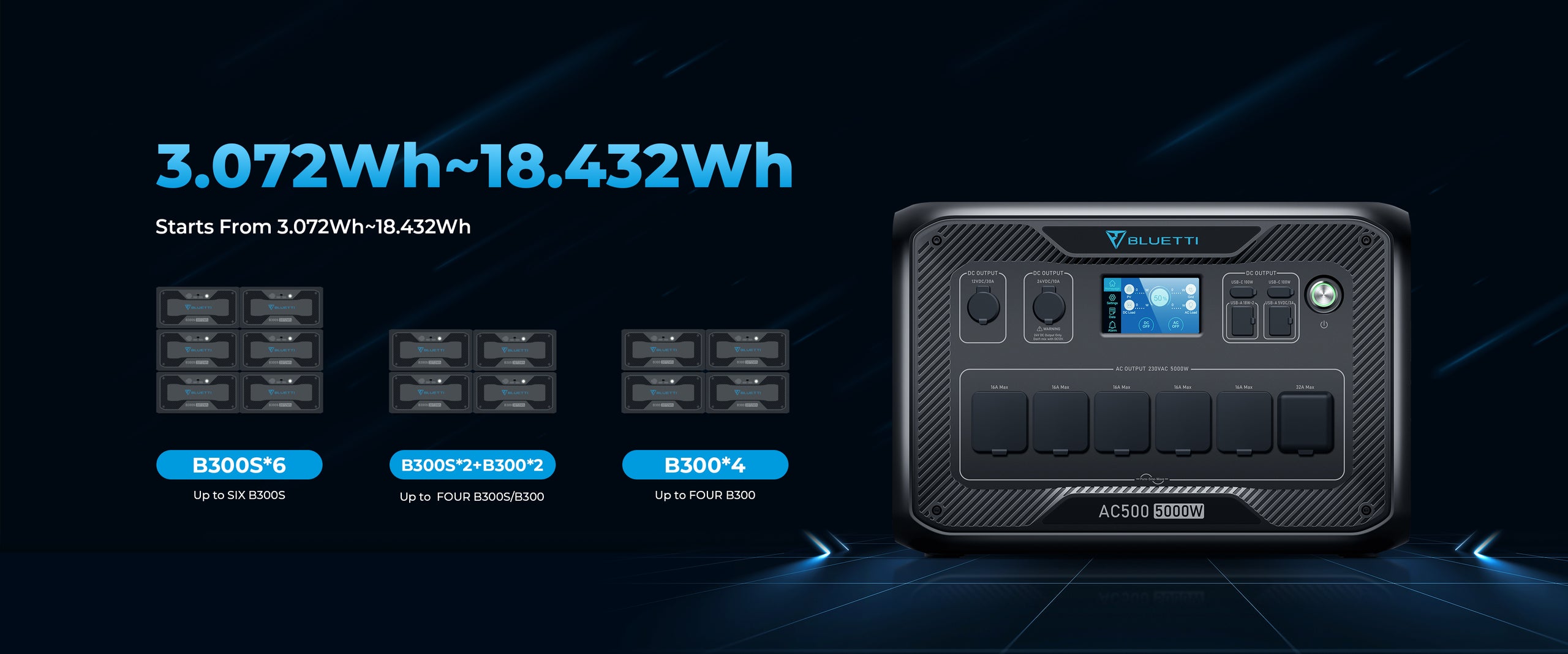 Powerful, Wonderful
The built-in inverter delivers 5.000W continuous pure sine wave output and takes up to 10kW surge for a short time at peak power, ensuring anything you plug in will run to its full functionality and potential effortlessly. It is suitable for all scenarios even when camping or having a barbecue in the yard.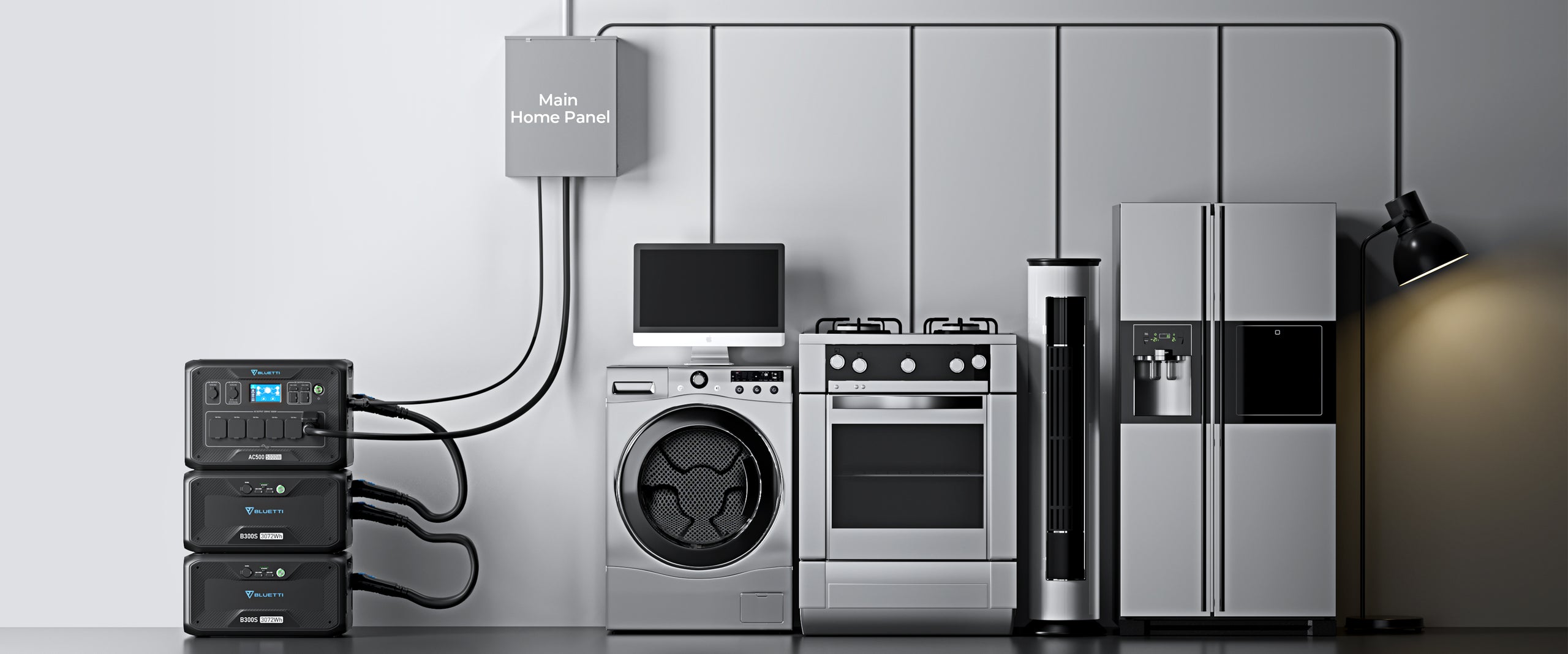 Endless Solar Energy for Free
Supported by an efficient MPPT controller, AC500 allows up to 3.000W solar input - 40% faster than a standard charging speed, so fully charging an AC500+B300S combo only takes about 1,5hrs*.

*The charging time is calculated under ideal conditions and for reference ONLY. The specific charging time may vary due to ambient temperature and other factors.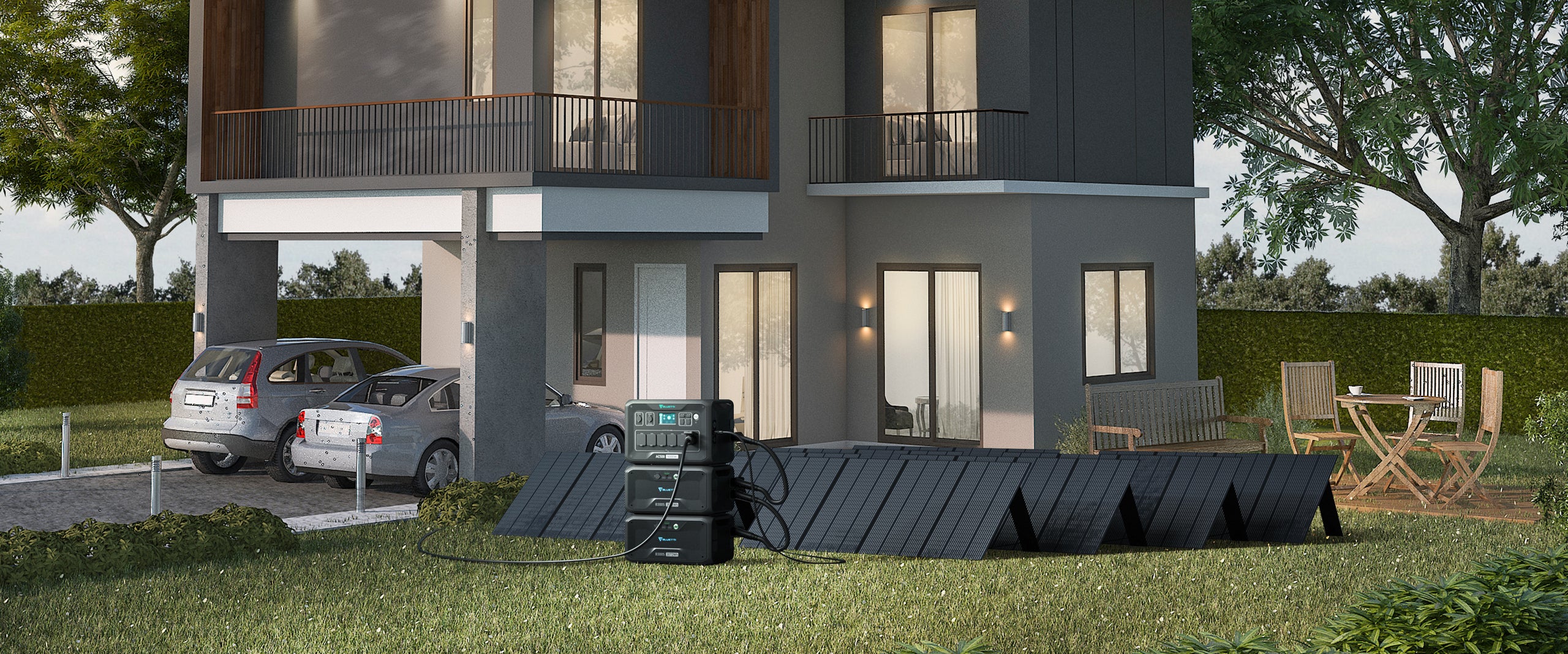 Unparalleled Recharging Experience
AC500 system is designed to recharge in any way you like, such as directly connecting to the solar panels, car cigarette lighter, or more efficiently via a 5.000W charging cable*. What's even more exciting is that the AC500 can support up to 8.000W* whopping input rate, making it fully recharge in 15hrs.

* Require a 50A charging cable or tie to the grid.
* Require at least two B300S packs and dual charge via 3.000W solar and 5.000W AC. Or the input rate would be limited to 4.500W with only one B300.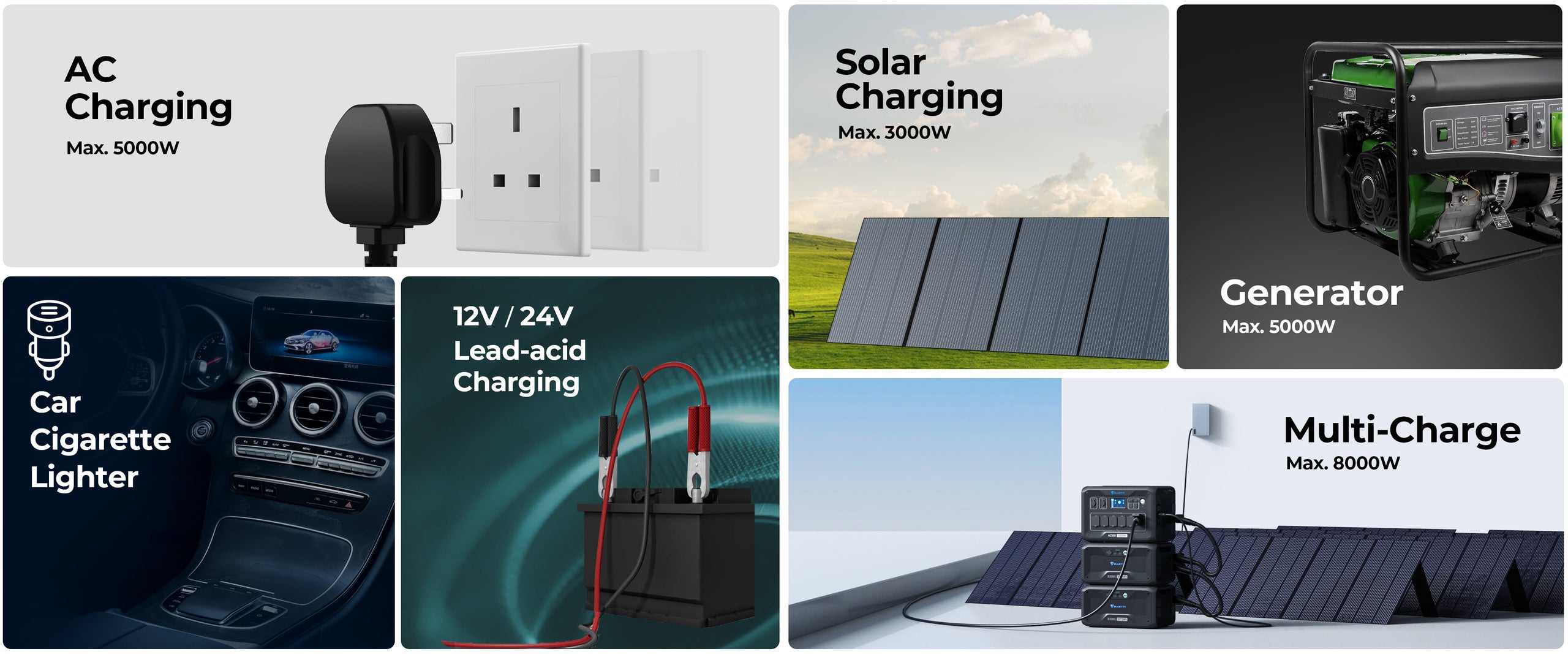 Safe, Smart, And Seamless UPS Backup
Whenever the grid goes down, the AC500 system will automatically become your home energy source to keep all your essential loads running without interruption. It also adopts an advanced Battery Management System (BMS) and LiFePO4 battery to ensure higher security during operation, longer life cycles, and optimal performance.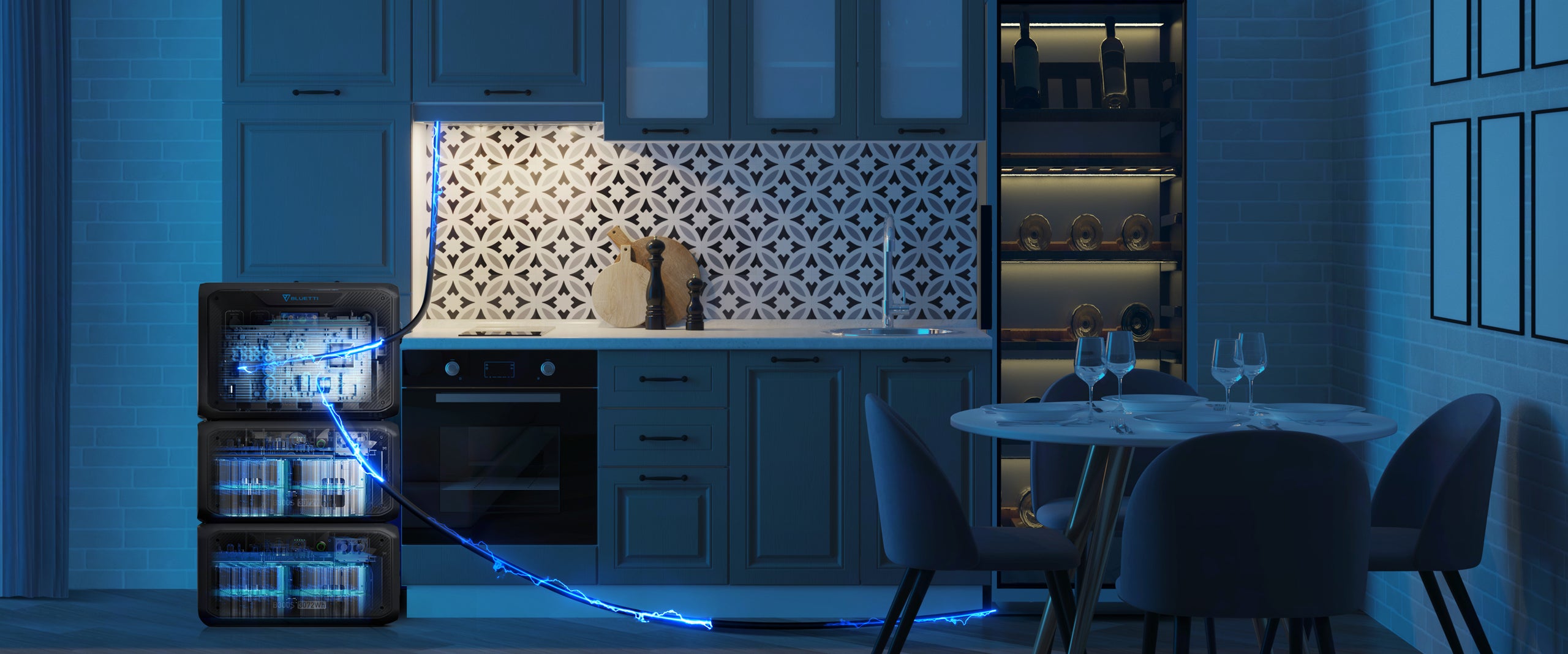 Monitor & ControlIn The Palm of Your Hand
The intuitive BLUETTI App and touchscreen allows you to take everything under control, including power in/out, real-time power consumption, charging profiles, OTA firmware update, and more.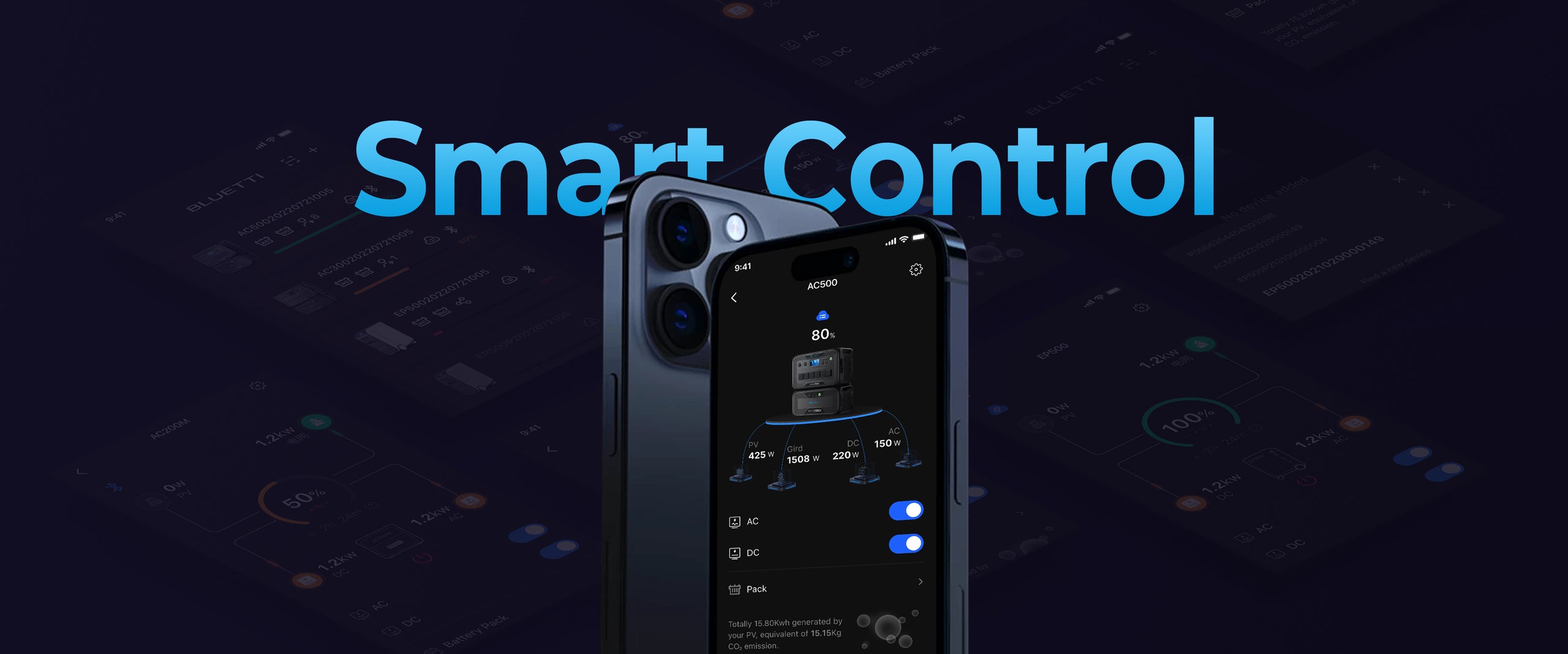 Never Run Out of Power
AC500 powers your devices like a gas generator, but without any fuel costs, noise, and pollution,
making it safe enough to use next to you whether you're at home, pitching a tent, or trying an RV road trip.
Specifications
Battery Info
---
Works with B300s or B300, starts at 3.072Wh
---
OUTPUT
---
5 x 230V/16A
1 x 230V/32A
5.000W In Total
---
2 x 5V/3A USB-A 2 x 18W USB-A
---
1 x 12V/30A (RV Outlet)
1 x 24V (Car Outlet)
*All regulated.
---
INPUT
---
4.500W Max. (W/ 1*B300S), 5.000W Max. (W/ 2 or more B300S).
---
3.000W Max., VOC 12-150VDC, 15A
---
12/24V from Vehicle Cigarette Lighter Port
---
4.500W (W/ 1*B300S), 8.000W (W/ 2 or more B300S) with AC and Solar Input Simultaneously
---
GENERAL
---
Expandable W/Up to 6 x B300S Or 4×B300
---
Simultaneous Recharge & Discharge:
---
20,5 x 12,8 x 14,1in ( 52 x 32,5 x 35,8cm)
---
UL2743, UKCA, TELEC, RCM, FCC ID, CE
---
AC300 wasn't powerful enough to supply our laundry room, so AC500 brought a nice addition to our autonomous laundry room (2-2.4kW) & water boiler (3kW). We can operate the washing machine AND the drier (or boiler) at the same time, without overloading the unit. Our boiler starts at 3.3kW so it would overload AC300. We also enjoy the extra solar input of this unit.
Careful, it's a bit heavier than AC300. We love both units, but benefit most from this one.
Only downside is the lack of support for B300.
Actually, there is support via a P150D to 90D wire, but it's expensive, and every time we connect a B300 to the AC500 using that wire (direct connection, or via another B300S), we get a beeping sound and a "BMS error" message, which doesn't prevent using the battery. We just need to turn it on manually every morning.
happy with the purchase
thanks for the great advice and help in choosing the right Fate model, glad to cooperate. Fate answered all my questions and helped me with payments. thanks, I'm very grateful! I will definitely buy more batteries of additional power and a solar battery! power is often cut off in Ukraine, so we really need bluetti now and help us out
BLUETTI AC500 + B300S Home Battery Backup
How-to
A useful guide to making the most of it all.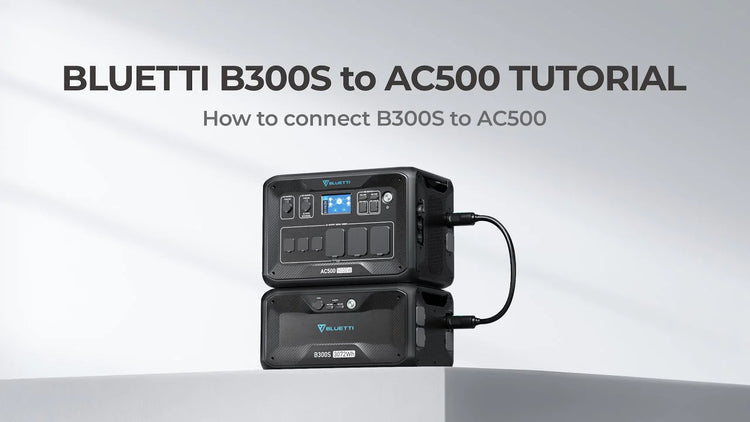 How to connect B300S to AC500?
AC500 Power Station Tutorial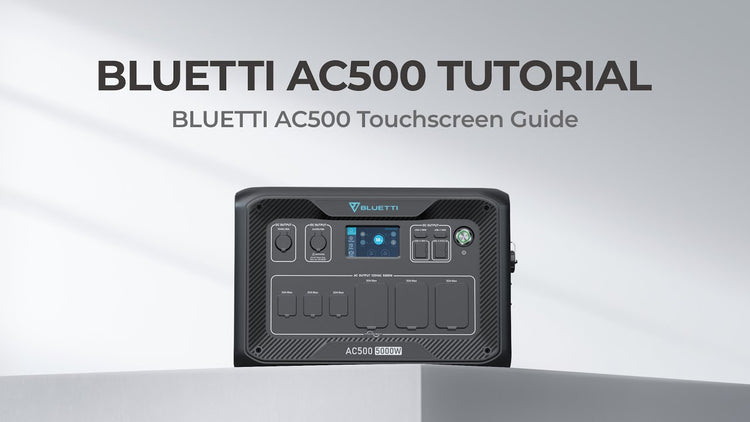 AC500 | Touchscreen Guide