BLUETTI B300 Expansion Battery | 3072Wh
2.099,00 €
2.499,00 €
On sale
Tax included.
---
Features with a 100W USB-C, a 12V/10A car output and a USB-A ports, you can use the B300 as a portable power station.
The smart MPPT inside of the B300 enables it to recharge quickly through solar power at a 200W maximum loading scale.
You can also recharge it by wall socket, car charging or lead-acid battery.
Car charging and lead-acid battery charging need to be realized through D050S.
You can earn BLUETTI BUCKS (Value about €) for completing your purchase!
---
30 Days Price Match Guarantee
BLUETTI guarantees that we will refund you the difference if you find a lower price from us within 30 days of your purchase.
Notes:(To get the price differences for your order, the following requirements must be met)
1. Valid purchase history within 30 days.
2. Take a screenshot of the lower price and email us, we'll refund the differences as soon as we confirmed it.
---
4-year Hassle Free
Warranty
Flexible Recharging
You can recharge BLUETTI B300 quickly with 200W Max. solar input thanks to the built-in MPPT. Besides, it also supports AC, car, and lead-acid battery charging. The car and lead-acid battery charging need a D050S.

Versatile Power Source
You can power your smartphones, laptops, fans, lights, refrigerators, microwave ovens, and so on with specific output port - the 100W USB-C, 12V/10A cigarette lighter, and 18W USB-A output ports.

Expandable Battery Pack
B300 has 3.072Wh capacity and over 3.500 life cycles with the LifePO4 battery cells, offering up to 80% of original capacity. Moreover, it will double, triple, even quadruple the total capacity with BLUETTI AC200MAX, AC200P, or AC300 series.

Home Backup and Trip Power Bank
Whether in a family gathering or camping trip, B300 will serve as your backup power supply or power bank. It powers your home and camping necessities well, and all you need to do is enjoy the good times.

Specifications
BATTERY INFO
---
3.500+ Cycles to 80% Original Capacity
---
Recharge to 80% Every 3-6 Months
---
MPPT Controller, BMS, etc.
---
OUTPUT
---
1 x 12VDC (Car Outlet)
*All Regulated.
---
INPUT
---
200W Max., VOC 12-60VDC, 10A
---
12/24V from Cigarette Lighter Port
---
700W, With AC Adatper + Solar Input Simultaneously
---
RECHARGE TIME
---
≈ 15,5~16 Hours at 200W
(With prime sunshine, ideal orientation and low temperature)
---
12V/24V Car Outlet (100W/200W:
---
≈ 5 Hours at 700W
(With prime sunshine, ideal orientation and low temperature)
---
≈ 5 Hours at 700W (D050S DC Charging Enhancer REQUIRED)
---
≈ 5 Hours at 700W (Extra adapter REQUIRED)
---
GENERAL
---
240V Split Phase Bonding:
---
20,5 x 12,5 x 10,5in ( 52 x 32 x 26,6cm)
---
UL2743, UKCA, RCM, PSE, FCC, CE
---
48 Months (Enter to learn more about BLUETTI warranty policy)
---
Probably our favorite battery
We started with an AC300 + B300 combo, but it quickly fills up when connected to 2400W of solar input. A second battery really helped, and B300 seems to offer the best power:price ratio.
Beste Entscheidung,
Ich besitze jetzt den AC200MAX und B300, damit habe ich 5kW/h im Haus.
Geladen wird mit einem 400w Modul einer Konkurrenz Firma. Funktioniert bestens.
Mit dieser Anlage kann ich einen 2 Personen Haushalt fast zur Gänze mit Strom versorgen. Leider muss ich dazu immer wieder Verlängerungskabel legen, aber die Waschmaschine und der Geschirrspüler laufen seit fast 3 Wochen nur mit Solarstrom aus meinen Bluetti's!
Wie gesagt, beste Anschaffung seit Langem, bin sehr zufrieden!
BLUETTI B300 Expansion Battery | 3072Wh
Verry good product
+ Excellent build quality
+ Has a build in MPPT for 200W
+ Stacks verry well with the others
+ Packaging and shipping
- Price
- Weight
- Bulky cable
Great product
Great product, fast delivery
How-to
A useful guide to making the most of it all.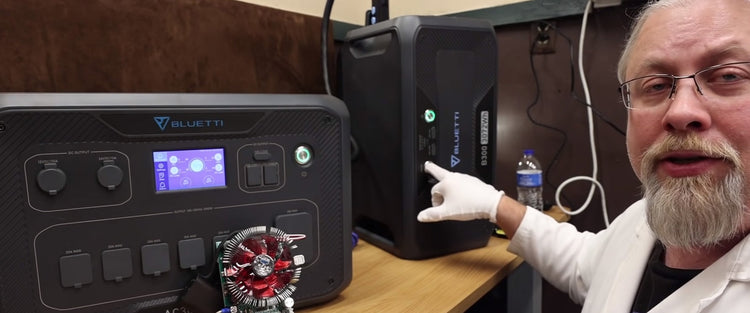 Product Application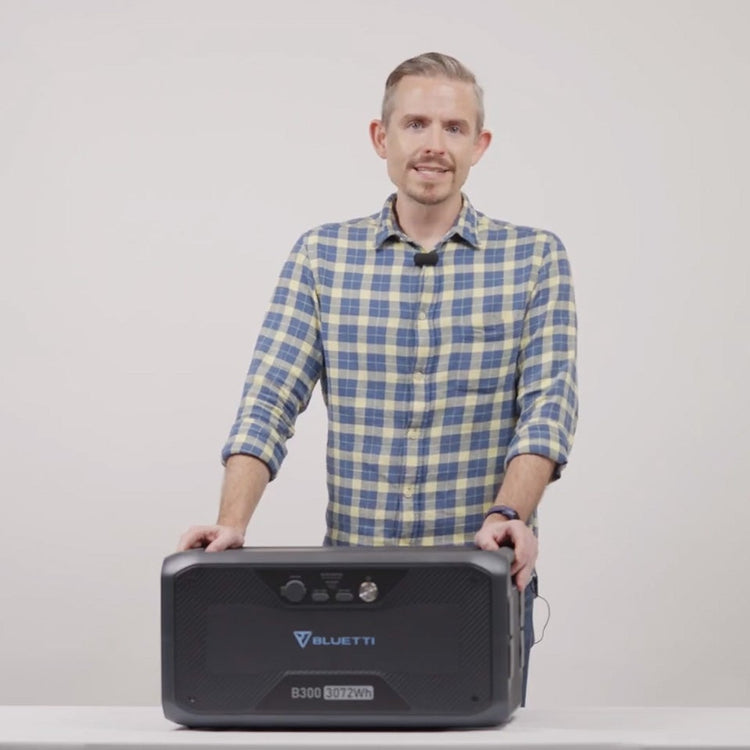 B300 Battery Module Tutorial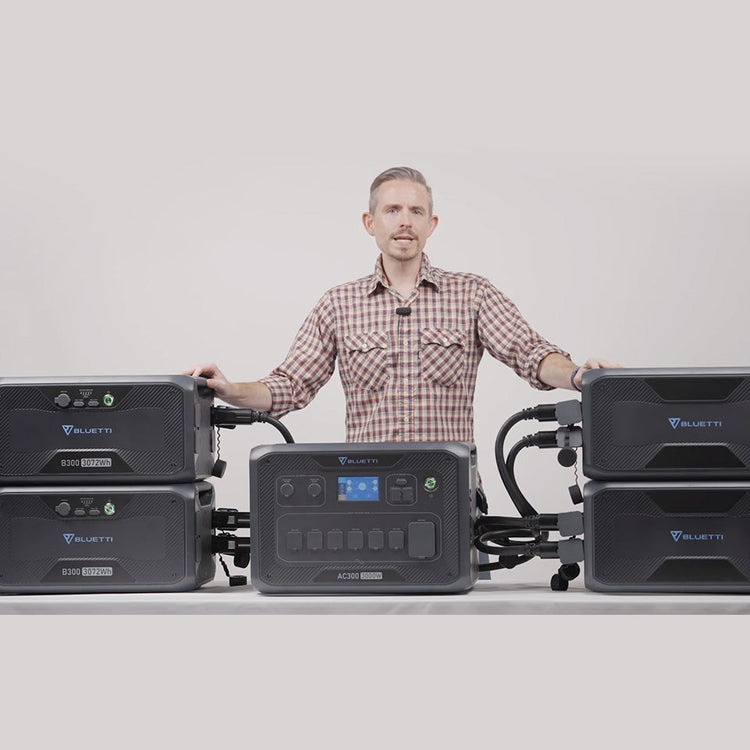 How to connect AC300 with B300 Battery Modules?
---
Note: AC300 (EU Version) Not Support Split Phase Bonding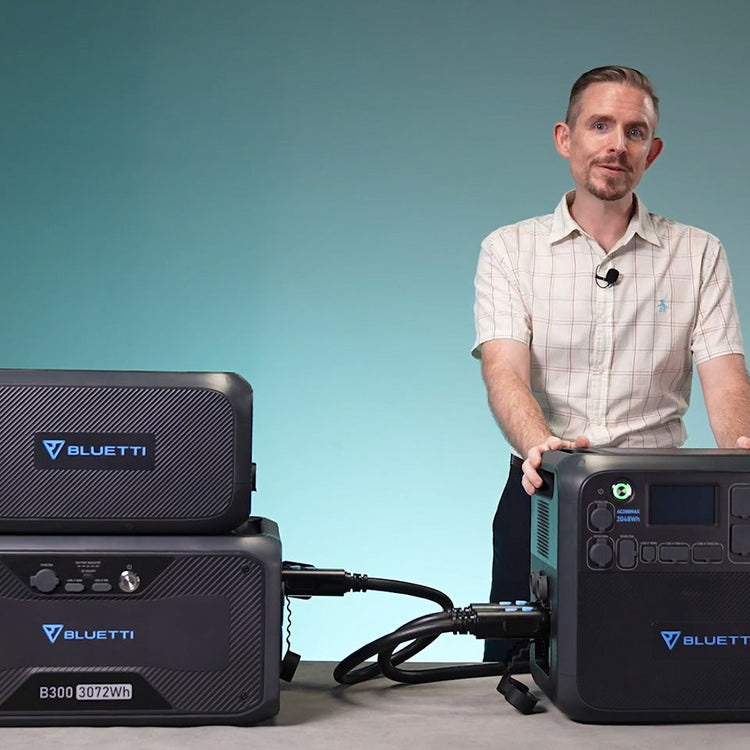 How to connect AC200MAX with B230 or B300 battery modules?