BLUETTI AC300 + B300 Home Battery Backup
3.249,00 €
3.599,00 €
On sale
Tax included.
---
3.000W AC Pure Sine Wave Inverter (6.000W Surge).
3.072Wh Capacity (Expandable w/ up to 4 × B300 for 12.288Wh).
7 Ways to Recharge (AC/Solar/Car/Generator/Lead battery/Dual AC/AC+Solar).
2.400W Max. Solar Input.
5.400W Max. Fast Dual Charging (Solar + AC Adapter Simultaneously).
Smart App Control & Monitor.
24/7 UPS Home Backup.
4 Years Worry-Free Warranty.
You can earn BLUETTI BUCKS (Value about €) for completing your purchase!
---
30 Days Price Match Guarantee
BLUETTI guarantees that we will refund you the difference if you find a lower price from us within 30 days of your purchase.
Notes:(To get the price differences for your order, the following requirements must be met)
1. Valid purchase history within 30 days.
2. Take a screenshot of the lower price and email us, we'll refund the differences as soon as we confirmed it.
---
4-year Hassle Free
Warranty

Expand Your Power At Will
BLUETTI AC300 is 100% modular and can accept up to 4×B300 (3.072Wh per pack) battery modules per unit, adding up to a total of groundbreaking 12.288Wh – Power your whole families basic needs for DAYS during emergencies or power outages!
2400W Unrivaled Solar Input
Time to plug into full-time solar life! BLUETTI AC300 is now capable of receiving 2.400 watts of unrivaled solar charging input. With BLUETTI's advanced MPPT controller, you can juice up a B300 (3.072Wh) battery module as soon as 1.5hrs Use only the sunshine!

3000W Pure Sine Wave Inverter
Packed with a 3.000 watt pure sine wave inverter and able to adjust the AC charging rate (no need for a power brick, one charging cable will do just fine). The AC300 power system can also be charged at 1.800W to 3.000W via wall outlets according to your needs.

5400W Blazing Input Rate
Waiting for recharging is never a pleasure. With both the wall outlet and solar panels plugged in, the AC300 can support up to 5.400W* horrendous total input rate. Plug the system in before you pack up for the camping, and your power will be ready when you are. *The 5.400W input rate combines 2.400W solar and 3.000W AC, which requires at least two B300's packs. Or the input rate would be limited to 3.000W with only one B300.

Everything You Want, In One
Power your home whenever power outages occur. Easy setup, Just Power On.

What Can You Do With Per B300(3072Wh)?

4 Years Worry-Free Warranty
Nothing drives us to do better than our commitment to your peace of mind. That's why every AC300 and B300 will come with a 4-year extended warranty.

Specifications
BATTERY INFO
---
Work with B300's, start at 3.072Wh
---
3.500+(to 80%),6.000+(to 50%)
---
BMS, Over Voltage Protection, Short Circuit Protection
---
OUTPUT
---
6x 220V-240V
3.000W In Total
---
2 x 5V/3A USB-A
2 x 18W USB-A
---
1 x 12V/30A (RV Outlet)
1 x 24V (Car Outlet)
*All Regulated.
---
INPUT
---
2.400W Max., VOC 12-150VDC, 12A
---
12/24V from Cigarette Lighter Port
---
5.400W, with AC and Solar Input Simultaneously
---
GENERAL
---
Expandable W/Up to 4 x B300
---
Simultaneous Recharge & Discharge:
---
20,5 x 12,5 x 14,1in ( 52 x 32 x 35,80cm)
---
Operating Usage Temperature:
---
UL2743, UKCA, TELEC, RCM, FCC ID, CE
---
This got us hooked on solar power
As the title says, it's the first "serious" solar device we purchased, and never regretted it.
In the meantime, we've bought more devices:
- AC500
- AC200MAX
- B300, B300S, B80, etc.
Our conclusions: at home, AC500 outperforms AC300 as we have heavy loads to power (the 3kW water boiler of the laundry room overloads the inverter of AC300 when it starts with its 3.3kW actual power draw... overload safety kicks in if the power draw doesn't normalize fast enough), but AC300 is great device, and we're happy with the purchase. AC200Max in contrast disappointed us. But then, Bluetti announced AC200L which should fix the issues we had with AC200Max with a power output that is almost as good as AC300, with the same B300 expansion capability. All in all, we love and recommend AC300. But if you don't need the extra 600W of AC300 vs AC200L, then we'd recommend the latter, as our heavy lifting needs are ensured by an AC500.
I recommend this brand AC300 work fine
The AC300 + 3 B300 works perfectly and is extremely quiet. I use it in my home 24 hours a day with solar panels.
I tested Bluetti's customer service. I was looked after by Mr Quennie and it was a 10/10.
I recommend this brand. Once you have a contact in the service department, they are very responsive and know how to satisfy the customer.
I am from France and I will continue to buy this brand.
J'ai testé le service après vente de Bluetti. J'ai été suivi par M. Quennie et c'est un 10/10.
Je recommande cette marque. Dès que vous avez le point de contact dans le service, ils sont très réactifs et savent satisfaire le client. Je suis de France et je continuerai d'acheter cette marque.
Le AC300 + 3 B300 fonctionne parfaitement et il est extrêmement silencieux. Je l'utilise dans mon habitation 24h/24 avec des panneaux solaires.
High quality product and user friendly
Works perfectly as advertised and no issues; I will buy more products :)
Thanks to Niya
I would like to thanks Niya for her great support that she provide to me regarding the products purchased. She is very professional and for sure I reccomend Bluetti for the products but specially for the great support too. Thanks again
Great product
Impressively quiet operation
How-to
A useful guide to making the most of it all.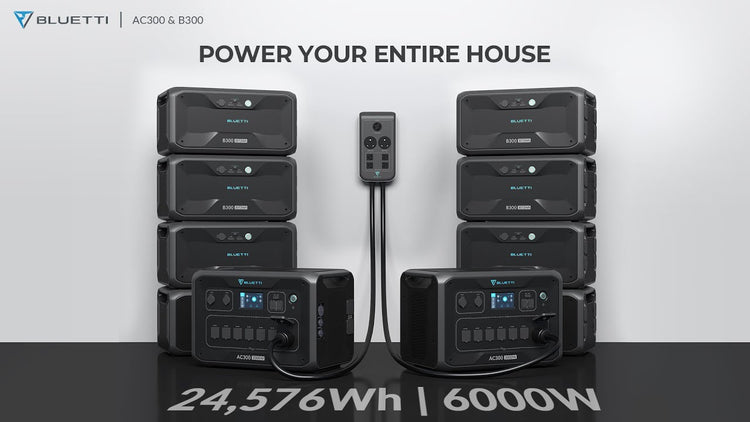 Product Application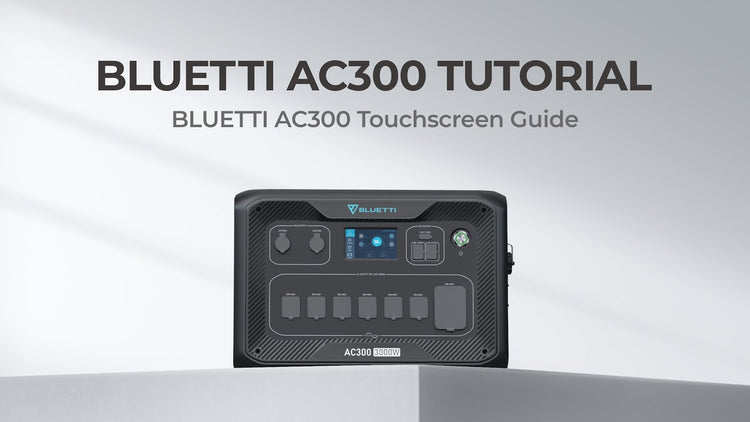 AC300 | Touchscreen Guide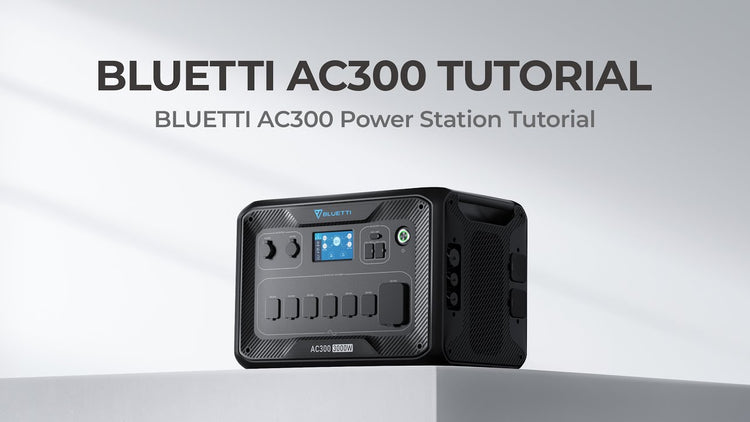 AC300 | Power Station Tutorial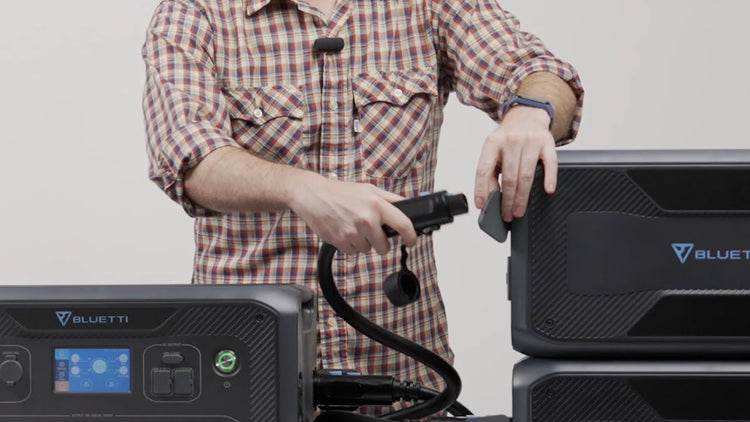 BLUETTI AC300 Battery Expansion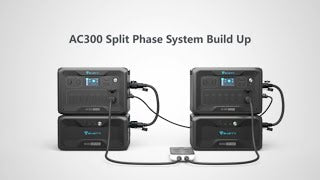 AC300 | Split Phase System Build Up