By now, we're all aware of the sharp increase in the cost of living. The price of food, energy, houses and more have shot up, causing a great deal of hardship for many people. And with inflation set to rise as high as 15% by 2023, our struggles are far from over.
 As we look towards the future, the gas price crisis is pushing forward what the world already needed: more solar panels on rooftops. Discover the role of solar power in our current energy crisis right here at Bluetti.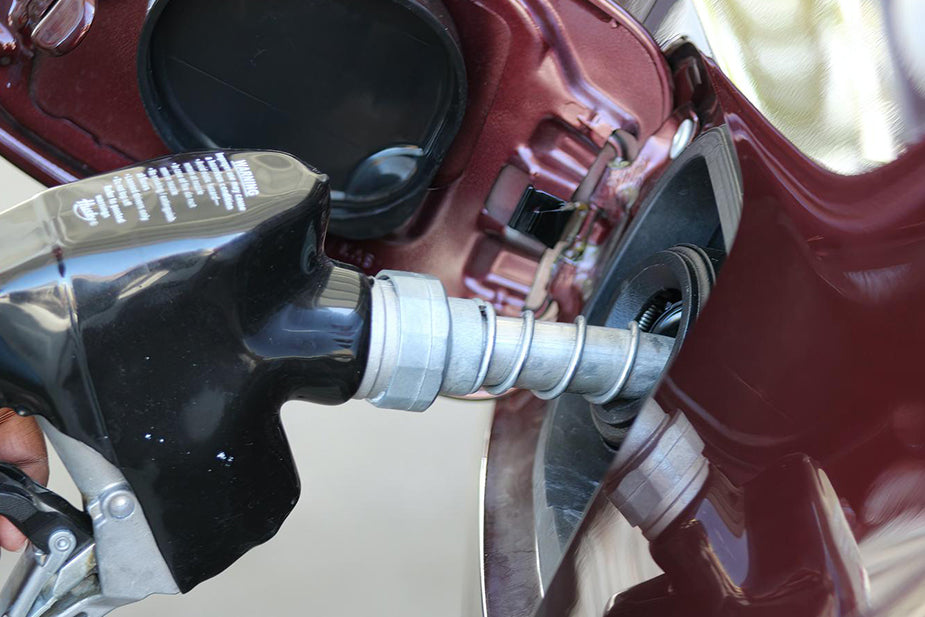 What's Causing the European Energy Crisis?
Natural gas prices have been surging in Europe as demand increases globally. While this is happening with most commodities, it's been a larger problem with natural gas.
This is due to a global economic rebound as countries lift COVID-19 restrictions and fully reopen their economies. Markets are now competing as demand rises after the shock of the pandemic.
With Europe's dependency on Russia for natural gas transportation, including crude oil and refined petroleum products, coal, steel, and iron, a current decline in supply has contributed to the energy crisis. As a result, the supply of these products has been slashed, causing their prices to soar.
An increased demand in Asia has also influenced energy prices, with numbers looking to inflate by 60% by 2040 – and around only 15% of this energy is renewable!
Globally, this ever-increasing demand will result in prices creeping up year after year, more so in times of crisis, as we have seen in the past few months.
Looking to the Future
Due to the current energy crisis, and in the name of a more economically and environmentally sustainable future, governments across the world are pouring more money into sustainable alternatives. One such alternative is solar energy.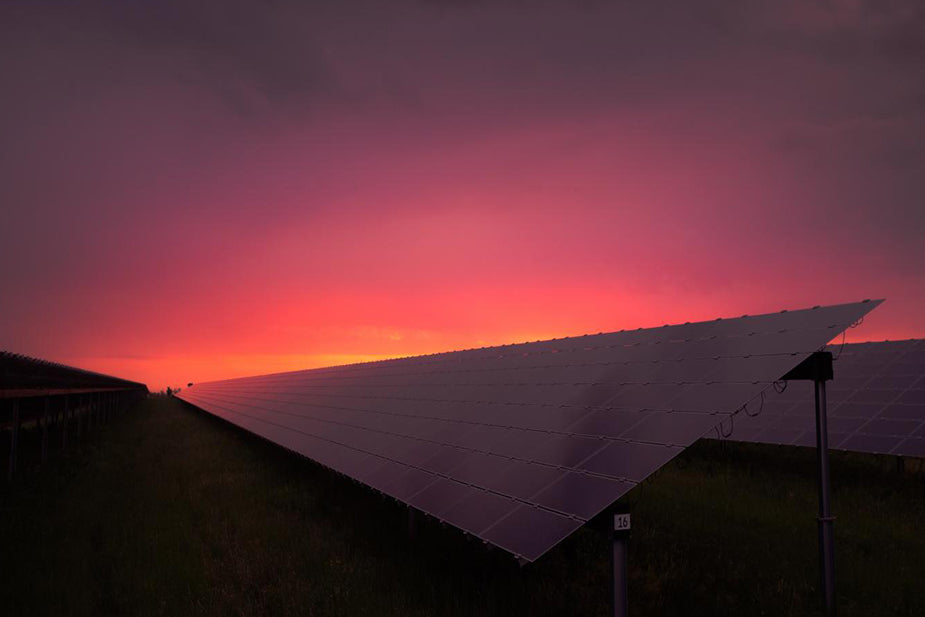 The Global Impact of Solar Power
With energy bills on their way up again later this year, homeowners across the world are looking skywards to try and ease the pressure on their budgets through the installation of solar panels.
Ballymacarney Solar PV Park will be one of Ireland's first solar farms. With construction due to finish late this year, Ballymacarney will provide over 40,000 homes with power, helping Ireland succeed in its ambitious goal for 70% of their energy to be renewable by 2030.
Across the continent in Greece, this past April Hellenic Petroleum – which is currently undergoing a switch to green energy – powered up the largest bi-facial solar farm in Europe. Costing EUR 130 million to install, the Kozani solar park will provide energy to an estimated 75,000 homes in the region.
Renewable Options
As well as solar power, there are many other renewable sources of energy being explored by governments and homeowners across the world, such as wind, hydroelectric, and geothermal.
However, for a standard home located within a mild to moderate climate, solar is arguably the most effective, and most easily accessible option available to residential buyers.
And while solar panel installation is initially expensive, there are options available to aid buyers through their transition to renewable energy.
Once your solar panels are installed; your energy bills will drop. Estimates calculate savings of up to 600€ per year, potentially more as electricity prices continue to rise – and the value of your home could increase by up to 4.1%. 
Interested? Contact the Bluetti Team for advice regarding solar power and we'll find the best solar solution for you.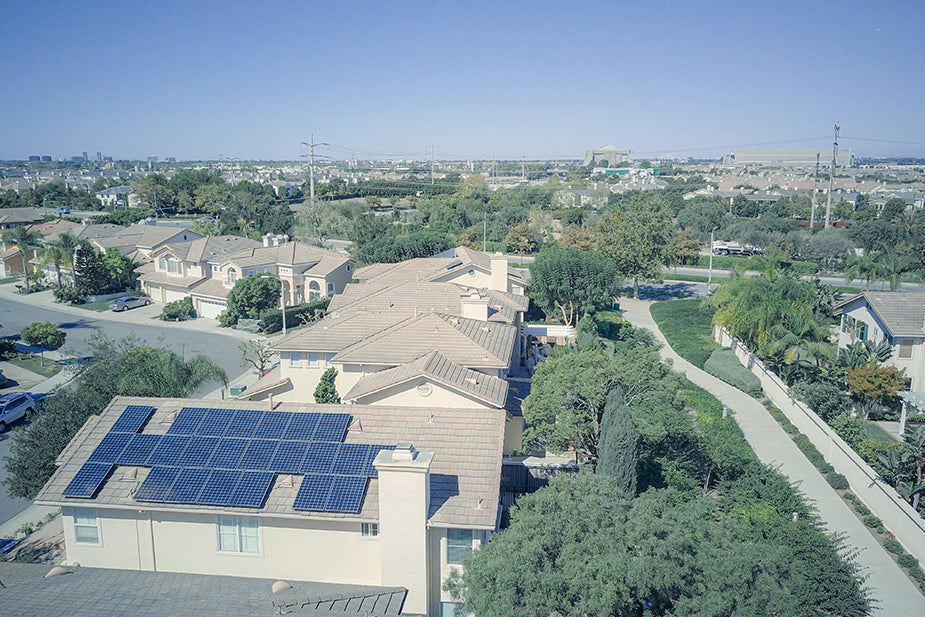 The Benefits of Solar Energy
As well as saving you money, having access to solar power can help support a more sustainable future. Renewable energy sources are currently at the forefront of global development, with more sustainable alternatives available and under construction every week.
Currently, the UK relies on renewable energy sources for as much as 43.1% of its energy consumption, with the goal to have zero net emissions by 2050. Across Europe and the world, similar targets are held as part of the Paris Agreement, the Kyoto Protocol, as well as individual country goals.
How Can BLUETTI Help You?
Solar options at Bluetti are varied and extensive. Ranging from panels to batteries and power stations, we'll support your move into personal renewable energy.
Solar Panels
Solar panels are perhaps the most common method of solar power production, with approximately 1 million homes in the EU fitted with a solar installation. Both financially and environmentally smart, solar energy is an ever-increasing instrument enabling a more sustainable future.
BLUETTI PV series solar panels are available at 120W, 200W, and 350W. All panels are foldable and portable, allowing for use at home, out and about, in the event of an emergency, or day to day.
Don't miss the portable and efficient solar panels!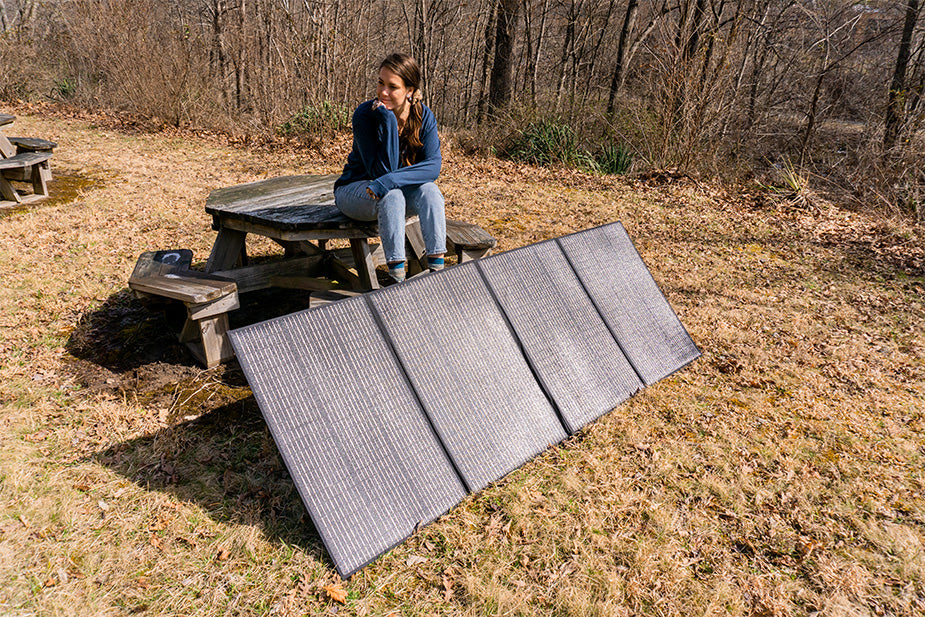 EP500Pro Solar Generator
Bluetti have also recently launched their EP500Pro Solar Generator 5100Wh. This impressive generator serves as a source of back up home power boasting 5100Wh battery capacity – our generator will give you:
40 hours running your refrigerator
300 charges of your smart phone
80 hours of LED lighting
3 hours running an electric grill
Suitable for use in the home or on the go, the EP500Pro comes with a 5-year warranty.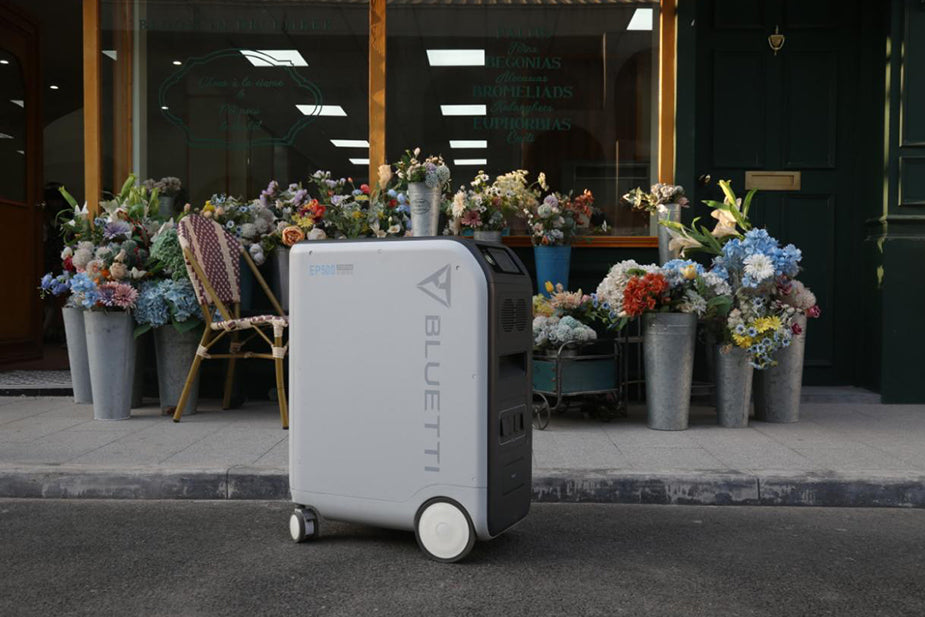 EB70 Portable Power Station
The EB70 portable power station is a product of cutting-edge technology and design innovation. With enough force to power your essentials on the road or during energy outages, you can stay powered, wherever life takes you – our power station provides:
50-60 charges of your smart phone
20-30 hours of LED lighting
8 hours powering your TV
3 hours running your slow cooker
Whether you need a camping companion or an at-home energy solution, the EB70 comes with a 2-year warranty.
Order the EB70 for your next adventure!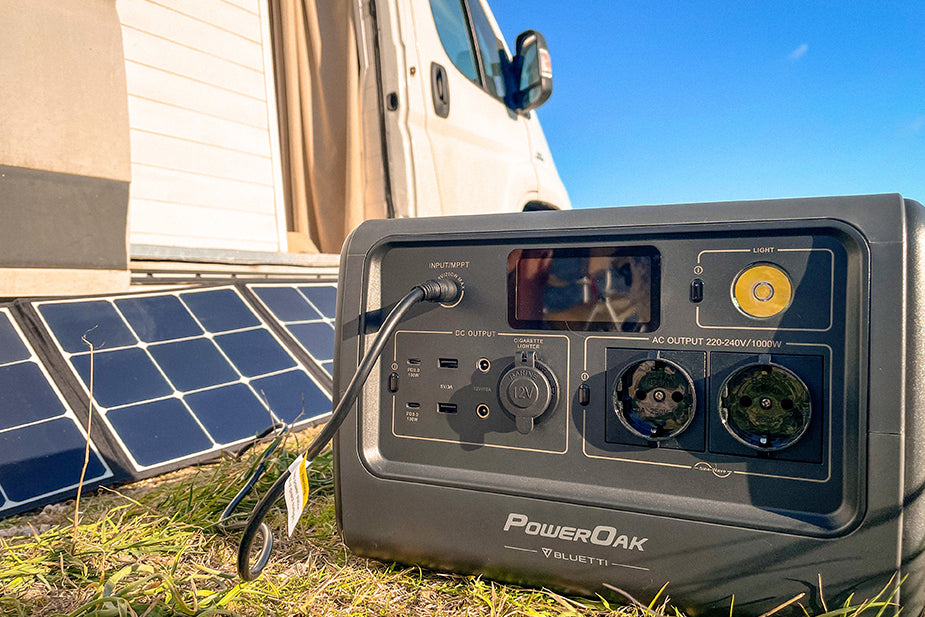 AC200MAX Expandable Power Station
As the first modular, expandable Bluetti power station, the AC200MAX is both powerful and reliable. Packed with an incredible 2048Wh ultra-durable LFP cells and a 2,200W full power pure sine wave inverter, the AC200MAX packs a punch off-the-grid or on the way – our all-round expandable power station will give you:
Up to 7 hours powering your air conditioner
15-28 hours running your refrigerator
70 cups of coffee from your coffee machine
50 hours of LED lighting
Struggling between power and flexibility? We've got you covered! With two expansion ports, the AC200MAX welcomes up to two battery ports with a 2-year warranty.
Begin your journey with AC200MAX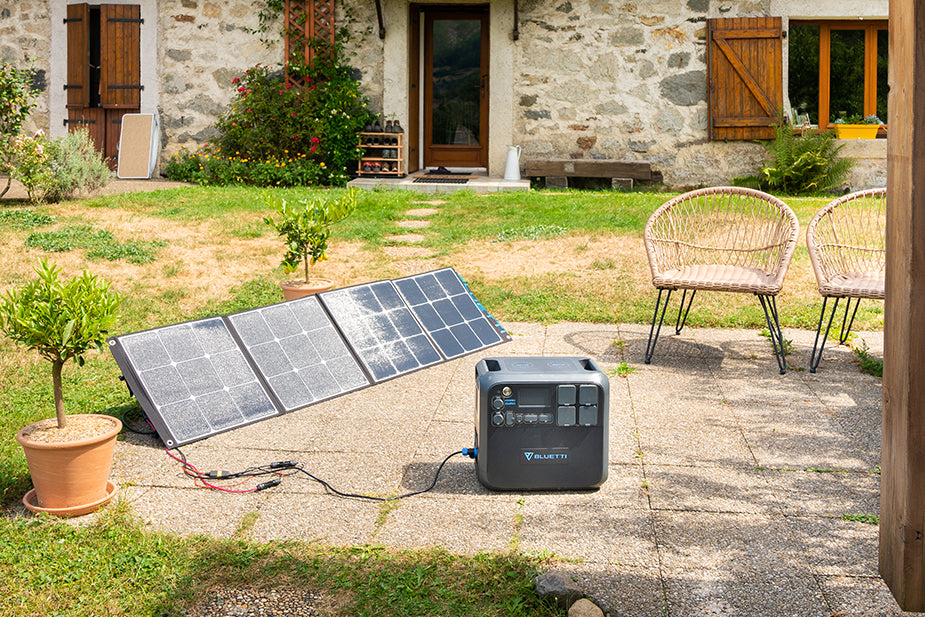 AC300+B300 Home Battery Backup
In the event of power outages or energy emergencies, power your life with AC300+B300 home battery backup. Suitable for various environments and designed for superior off-grid power, the AC300+B300 ensures you never run out of power – your battery backup provides:
45 microwaved meals
3 hours powering your air conditioner
10 hours of full-size refrigerator use
180 hours of CFL lighting
Expand your power at will with AC300+B300 home battery backup with a 4-year hassle free warranty.
Start enjoying the AC300+B300 today!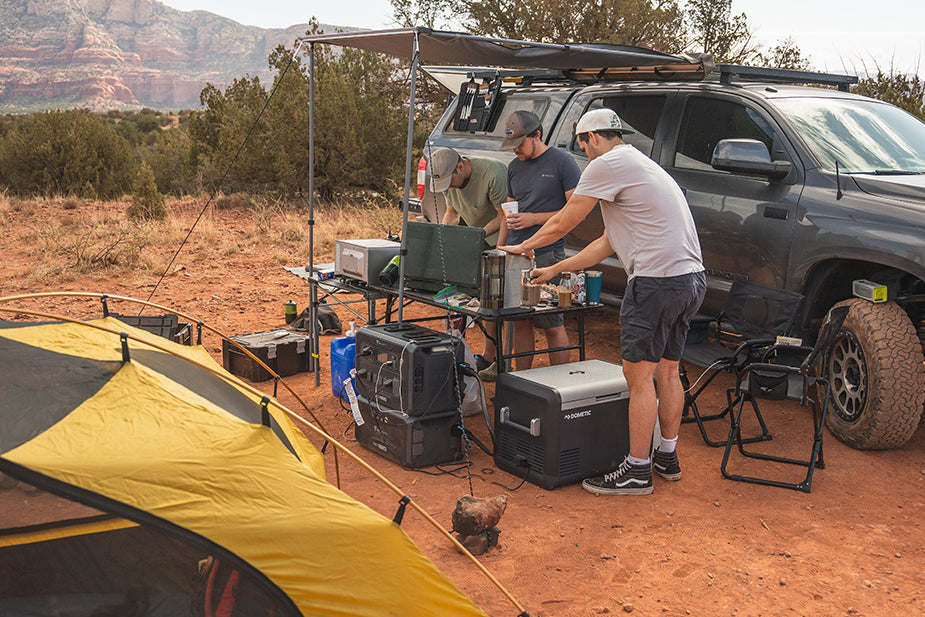 Other Solar Options
Other solar options offered by Bluetti include expansion batteries, and solar generator kits. The kits are comprised of a range of solar panels, power stations, and expansion batteries, with various options available to suite all your energy requirement.
When considering ways to get ahead of the European energy crisis, why not begin your journey with solar energy? Contact the dedicated team at Bluetti for more information and advice regarding solar panels.