BLUETTI PV120 Solar Panel | 120W
299,00 €
369,00 €
On sale
Tax included.
---
Monocrystalline Solar Cells With Up to 23,4% Efficiency
Long-lasting ETFE Coating
Foldable & Portable
Compatible With Most Solar Generators with MC4 Connectors
12-month Warranty
---
You can earn BLUETTI BUCKS (Value about €) for completing your purchase!
---
30 Days Price Match Guarantee
BLUETTI guarantees that we will refund you the difference if you find a lower price from us within 30 days of your purchase.
Notes:(To get the price differences for your order, the following requirements must be met)
1. Valid purchase history within 30 days.
2. Take a screenshot of the lower price and email us, we'll refund the differences as soon as we confirmed it.
---
1-year Hassle Free
Warranty
Solar Charge Anywhere
Connect it and leave it. BLUETTI 120W solar panel is set to keep your solar generators juiced as long as there is sunlight available.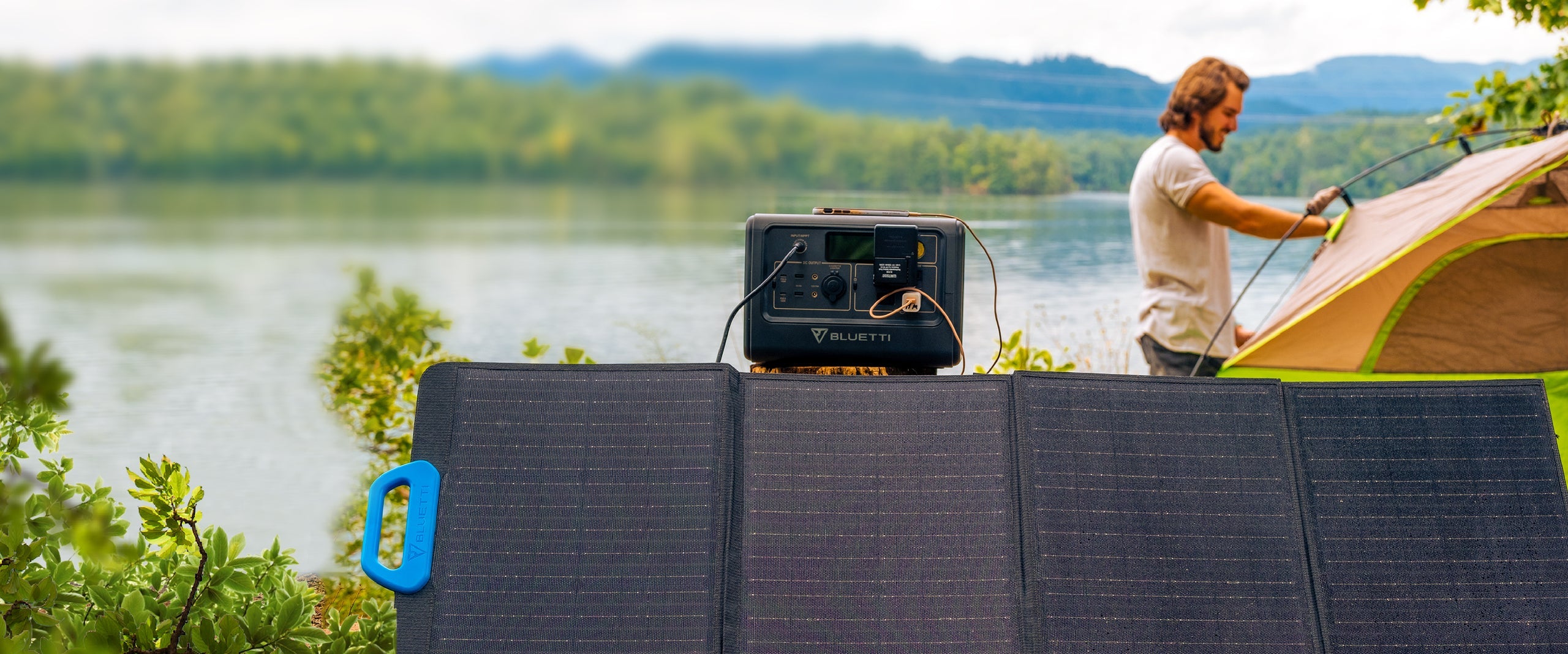 23,4% High Efficiency
Built with monocrystalline solar cells, the PV120 can convert up to 23,4% of sunlight into solar energy, charging your solar generators even in bad weather.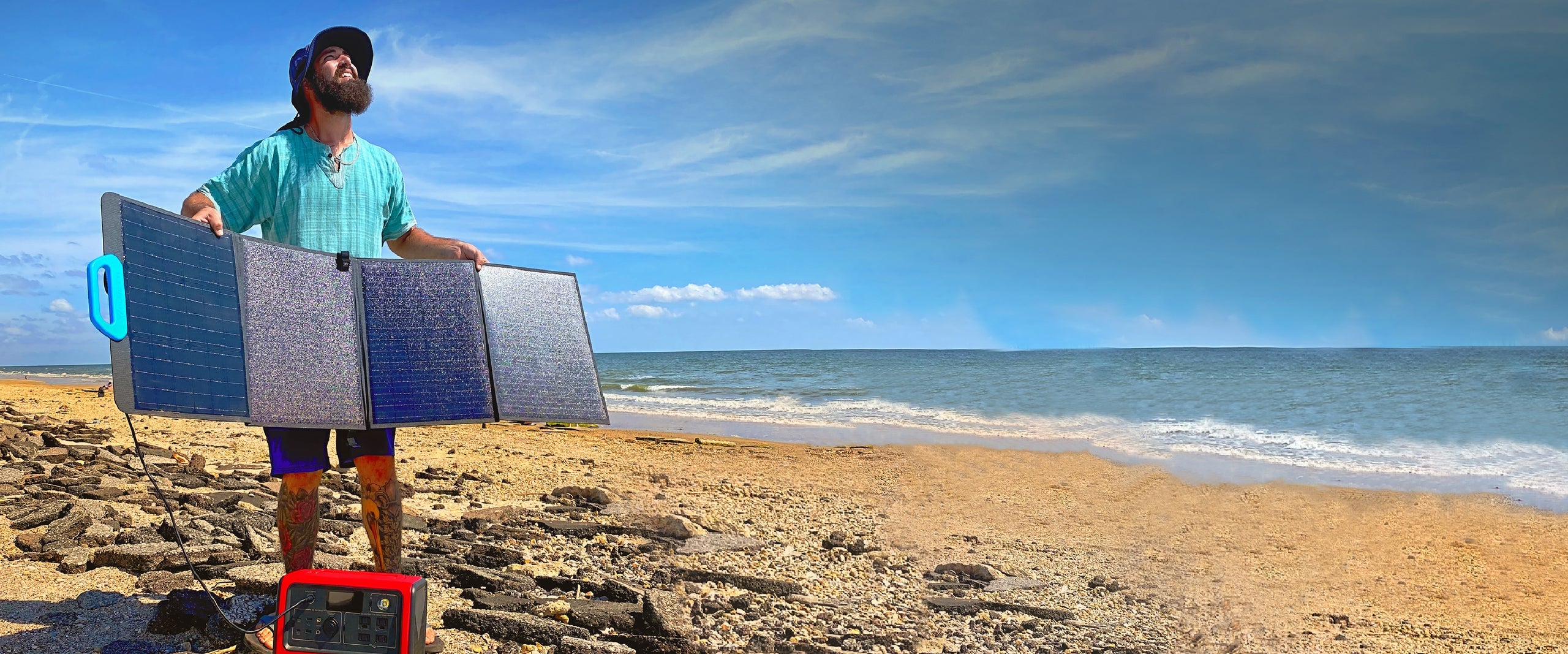 Easy Setup With Kickstand
Unfold the PV120, snap the kickstands, adjust the angle to maximize the amount of sunlight, and you're ready to harness solar energy for your generators.
(The recharging time refers to 80% of power level being charged*)
BLUETTI EB55 (537Wh) + PV120: Charge in as soon as 5 hours
BLUETTI AC200P (2.000Wh) + 2*PV120: Charge in as soon as 8,5 hours
BLUETTI AC200MAX (2.048Wh) + 4*PV120: Charge in as soon as 4,5 hours
BLUETTI AC300 + B300 (3.072Wh) + 8*PV120: Charge in as soon as 3,5 hours
BLUETTI EP500 (5.120Wh) + 6*PV120: Charge in as soon as 7,5 hours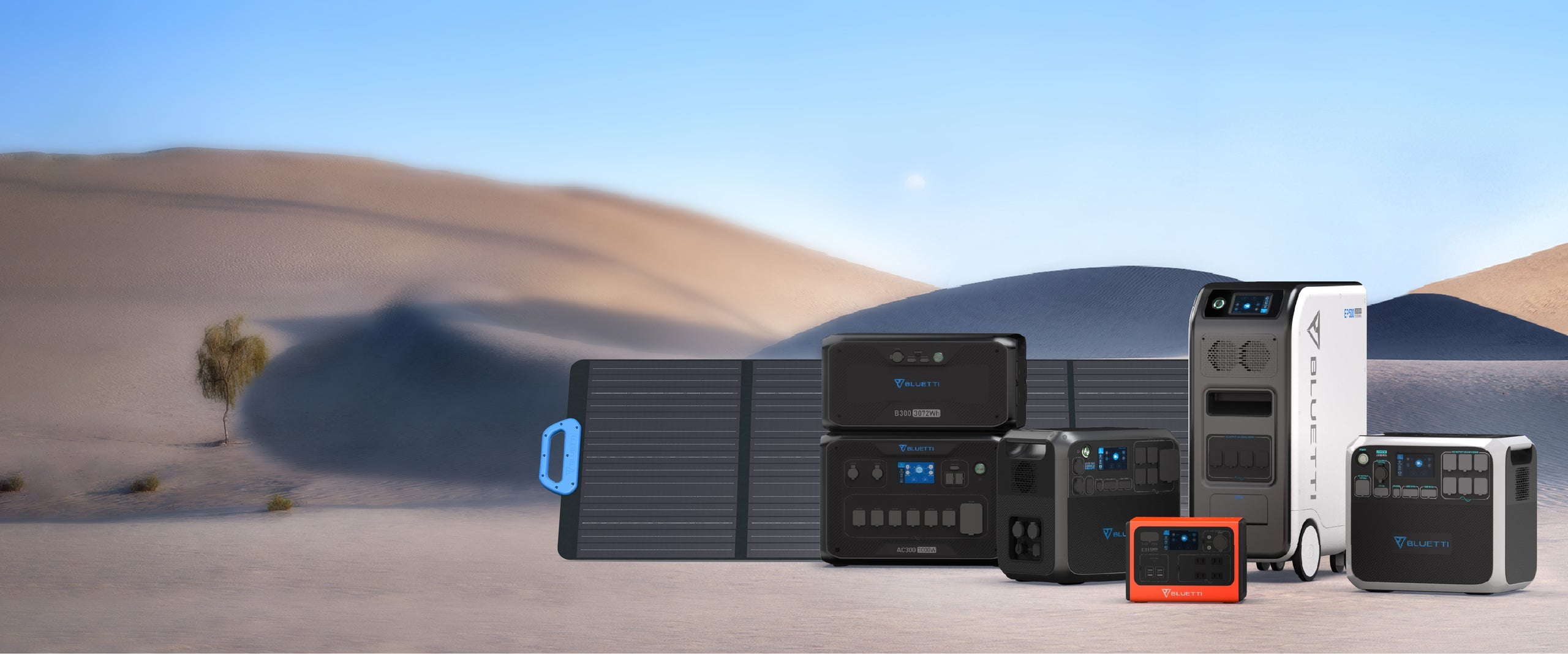 Built to Last
The ETFE coating and IP65 junction box are designed to withstand any scratches and watersplash, perfect for camping, fishing, hiking and much more.(Prevent exposure to rain or no soak in water)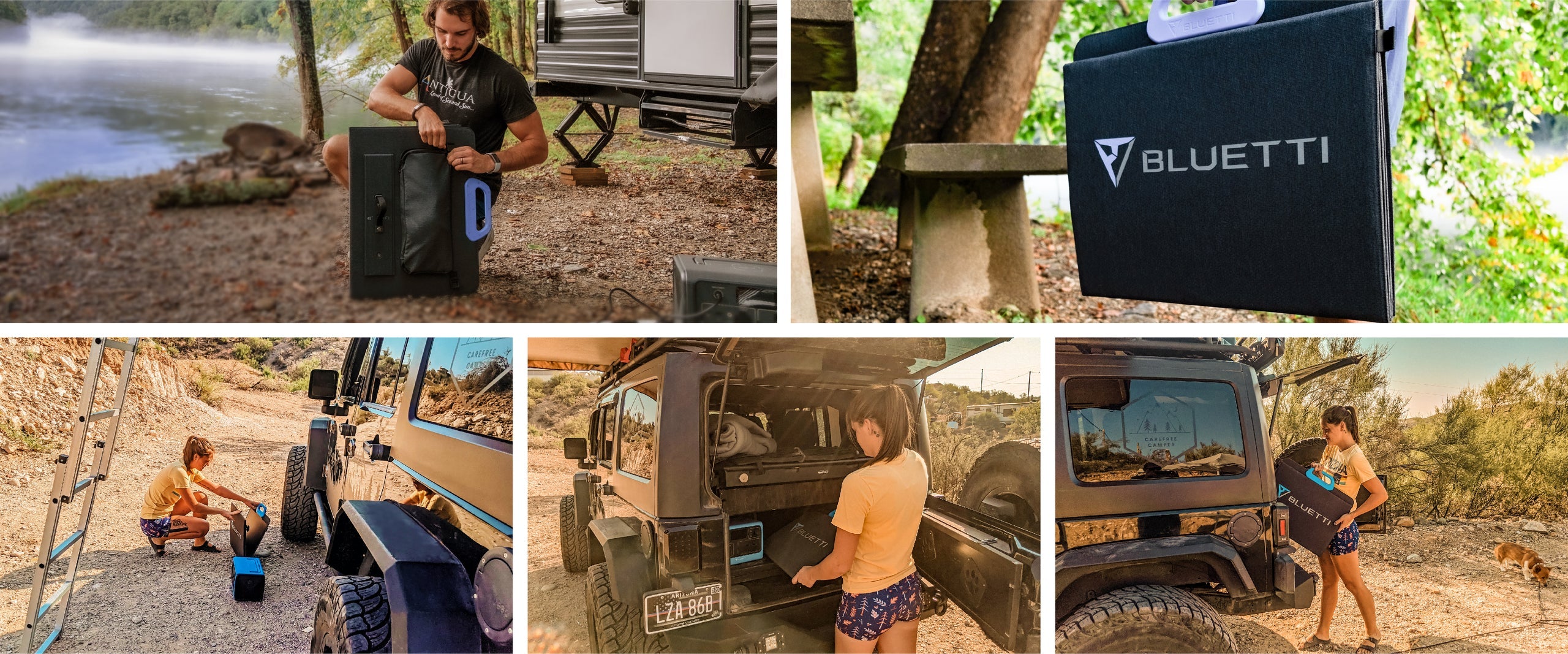 Portable in Every Way

Specifications
POWER
---
ETFE (Ethylene tetrafluoroethylene)
---
Voltage at Max Power(Vmp):
---
Current at Max Power(Imp):
---
Open Circuit Voltage(OCV):
---
Short Circuit Current(Isc):
---
GENERAL
---
21 × 65in (53.3 × 165.2cm)
---
21 × 18.5in (53.3 × 47cm)
---
Best Working Temperature:
---
In The Box
BLUETTI PV120 Solar Panel | 120W MANUAL
Download Now
Works as expected
Tested a few times in the past month. With this solar panel we didn't have to buy electricity in the camp site. Together with AC50 it works smoothly. Cold beer from the fridge is a prove.
For my CamperVan off-grid system the best flexible solution.
Together with the Bluetti AC180 Power Station i bought 2 Bluetti PV120 Solar Panels. So this is not only for using in my selfbuild Weekender/CamperVan but also it can be used for workspace or kitchen at home. Why did i choose for those PV120 Solar panels? Not only they are small enough for the little space we have in the Van, it gives us more flexability when we are in the woods or out in the fields or lakes. The Van can be parked in the shadow and i can put the 2 PV120 Solarpanels and the AC180 Power Station with the extension cables wherever there is some sun getting trough. With a fixed Solarpanel on the roof the Van has to be parked into the sun. Recently i used this set-up for a few day's in a private wood campspace, no electricity, but with the ability to have cooled drinks and food thanks to this Bluetti-system. Very pleased with this system and even we were in the wood, the bright sun shining trough the leaves, it was charging with around 150 W whilst it was charging my laptop, so enough to stay 3 to 4 day's offgrid.
A 2 120wattos napelem tud összesen 120 wattot,vicc.
120W solar panels.
Excellent product, charges really well and above all excellent quality...Thanks
Easy to use, charges well
Solar panel is easy to set up, sunlight isnt very strong in my area this time of the year, but the oanel till charged my eb4a pretty fast.
Panel only came with MC4 connector, so you may need to get an adapter