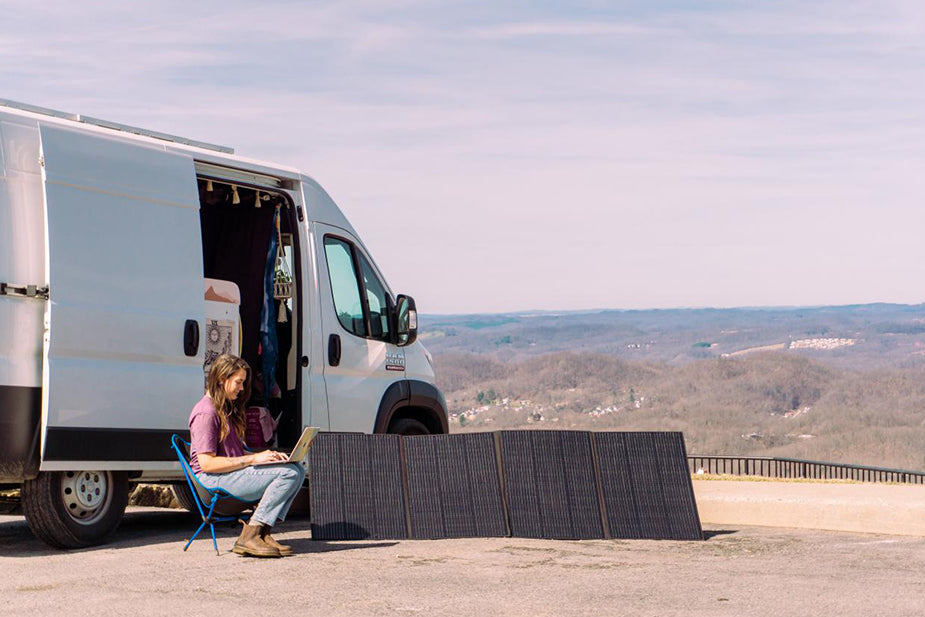 You are planning your next adventure with your campervan and do not want to rely on the power solution on the campsite, or you are planning a bigger for an extended period of time? Then the solution with solar energy is both cost-efficient and eco-friendly.
Is It Worth to Buy a Campervan Solar Panel?
When you are out in nature, or on a trip on the weekend and you need your electronic devices to work properly, or you want a cold drink and nice food that stays fresh? Then you really want to consider a good solution for your electrical supply during your off grid adventures. There are different solutions, but the power of a solar panel for your campervan is clean and easy. Also if you want to work, while you are on the go, with a solar panel for your campervan, you can.
What Type of Solar Panel is Best for a Camper?
There are different types of solar panels. There are glass panels, flexible panels and foldable panels, which you can easily carry. The glass panels and the flexible panels take up a lot of space and are best, if you would like to mount something you your campervan.
The most flexible and easiest solution are the foldable solar panels. When you arrive at your desired spot, hook them up in 5 seconds with your bluetti solar generator, for example the eb70, and keep collecting sunlight independently. When the earth moves and the sun is at an inefficient angle, adjust the solar panel for your campervan within seconds.
If you travel with your campervan and want to work outside, in the beautiful nature just hundred meters away from your campervan, the portable solar panel comes in very handy. You can literally work from anywhere.
How Many Solar Panels Do I Need for My Campervan?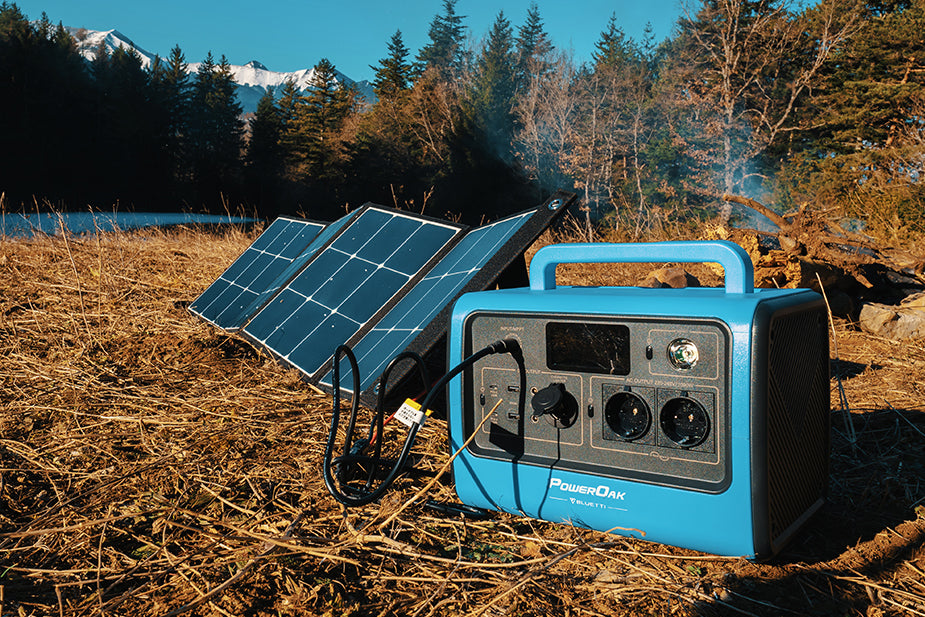 The amount of solar panels you need for your campervan depends on the solar generator you use. If you use the smaller and lighter Bluetti ac50s, you can recharge your device with the SP120 solar panel within 4-5 hours.
If you have the bigger Bluetti eb55 with an extraordinarily high lifecycle of 2500+ then you can decide if you want to use the SP120 or the PV200. With the 120W Panel it takes just over 6 hours and with the bigger 200 W panel it takes you 4-5 hours from 0-100.
If your power demand is a bit higher you would enjoy using the Bluetti EB70 with a higher power delivery, and you can also charge it with both, the SP120 and the PV200. With the SP120 it takes 7-8 hours and with the PV200 it takes 5-6 hours to fully charge.
So the decision on which is the best panel for campervans, comes down to the solar generator you are using. Every solar generator has a maximum Input and if your solar panel is too big, it will not work as expected.
What Are Recommend BLUETTI Solar Panels for Campervans?
At the moment there are three different Solar panels available. All of them are top quality, durable and are water resistant. So if it suddenly starts to rain, it is not much of a problem. The panels are foldable and have the ability to stand alone. 
SP120 – 120W Solar Panel
All panels come with the same rugged and durable features that have a water and dust resistant IP54 rating. With just above 4 kg the SP120 is extremely lightweight.
cell efficiency of up to 23%
lightweight 4,3 kg
small packing size of 41,5 x 41 cm  
operating range of -10°C -+65°C
PV200 – 200W Solar Panel
The slightly bigger brother of the SP120 comes in with 6,5 kg and has the same durability of IP54, with an even higher cell efficiency. If the small change in Size and weight does not make a difference for you, then you should consider the PV200.
cell efficiency of up to 2

3.4

%

lightweight

7

,

3

 kg

small packing size of 5

9

 x

60

 cm  

operating range of -10°C -+65°C

Best Working Temperature: 77℉ (25℃)
PV350 – 350W Solar Panel
If you have a big solar generator and do not mind to carry a bit more with you, the PV350 will fit your needs perfectly. But keep in mind to use the right solar generator with it. You should at least use the Bluetti ac200p with it, but then you can take two of them at the same time. 
Cell efficiency of up to 23,4%

13,9 kg

small packing size of 90,5 x 61,3 cm  

operating range of -10°C -+65°C
FAQ
1.Is it difficult to set up an off grid power system?
No, the combination of solar generator and the specially designed potable panels are plug and play.
2.How durable are the Solar Panels?
The Bluetti Solar Panels are very durable and of the highest quality. They are dust proof and water resistant with an IP54 certification.
Final Thoughts
If you are searching for the best solar panel for campervan, it is necessary that you think of the power demand you have. If you use your mini fridge, charge your camera, drone, laptop and other devices you may consider taking the Bluetti PV200, because it has the best size to wattage ratio and the highest cell efficiency. It is just slightly bigger than the Bluetti SP120 but still portable enough for taking it somewhere even more remote. Sure you will enjoy your flexible and high quality solar panel for your campervan.