BLUETTI AC200MAX Expandable Power Station | 2200W 2048Wh
Flexible From 2048Wh To 8192Wh
1.799,00 €
1.999,00 €
-200,00 €
2,200W AC Pure Sine Wave Inverter (4,800W Surge)
2,048Wh Capacity
LiFePO4 Battery with 3,500+ Life Cycles to 80%
Expandable Up To 6,144Wh with 2×B230, or 8,192Wh with 2×B300
7 Ways to Recharge (AC/Solar/Car/Generator/Lead Battery/Dual AC/AC+Solar)
900W Max. Solar Input
1400W Max. Fast Dual Charging (Solar + AC Adapter)
Smart Control & Monitor in BLUETTI App
choose your match
Expansion Battery
Solar Panel
Complete Your Solar System
BLUETTI AC200MAX Expandable Power Station | 2200W 2048Wh
30 Days Price Match Guarantee
BLUETTI guarantees that we will refund you the difference if you find a lower price from us within 30 days of your purchase.
All-round Upgraded Expandable Power Station
The first modular, expandable BLUETTI power station. Packed with an astonishing 2048Wh ultra-durable LFP cells and a 2,200W full power pure sine wave inverter, the AC200MAX can be your mobile recharge center off-the-grid or on the way.

Coffee Maker(2000W)
68-70 Cups

Electric Grill(1650W)
1 Hrs

Refrigerator 150W(1200W)
15-28 Hrs

Air Conditioner(8000 Btu)
3-7 Hrs

CPAP(40W)
40+ Hrs

Light(10W)
50+ Hrs

LESS TO SPEND, MORE TO LOVE
Struggling between power and flexibility? We got you covered! With two expansion ports, The AC200MAX welcomes up to two BLUETTI B230's(2048Wh each) or B300(3072Wh each) battery modules, connecting of which can boost the total capacity to a staggering 8192Wh!

GET CHARGED IN ANYWAY YOU PREFER
The AC200MAX allows up to 900W of solar input and 500W via the adapter, you can even charge it up via your wall outlet and solar panels simultaneously, boost a stunning 1400W total charging rate which can top up your power beast in less than two hours! Further more, every BLUETTI battery module has their own input port for AC adapters, you'll get another 500W of input capability with every module added (Up to two for the AC200MAX).

Incomparable Outlet Versatility
With AC200MAX's 15 outlets, you get to run all your needs simultaneously without breaking a sweat.

Specifications
BATTERY INFO
---
3500+(to 80%),6000+(to 50%)
---
BMS, Over Voltage Protection, Short Circuit Protection
---
OUTPUT
---
230V, 50Hz,
2200W In Total
---
2*5V/3A USA-A
2*18W USB-A 18W
1*100W USB-C
---
1*12V/30A Super DC
1*12V Cigarette Lighter Port
2*12V DC 5521 (5.5mm Outlet)
---
2*15W Wireless Charging Pad
---
INPUT
---
900W Max., VOC 10-145VDC, 15A
---
12/24V from Cigarette Lighter Port
---
1,400W, with AC+Solar Input
---
RECHARGE TIME
---
≈3~3.5 Hours (With prime sunshine, ideal orientation and low temperature)
---
12V/24V Car Outlet (100W/200W):
---
AC Adapter + Solar (1400W):
≈2.0~2.5 Hours (With prime sunshine, ideal orientation and low temperature)
---
≈3~3.5 Hours (Extra adapter is REQUIRED)
---
GENERAL
---
Expandable Up to 2 x B230 or 2 x B300
---
16.5 x 11 x 15.2in ( 42 x 28 x 38.65cm)
---
UL2743, UKCA, TELEC, RCM, FCC ID, CE, PSE, NTC
---
works well, meets my expectations
Definitely NOT the best power station. Too overpriced
After almost a year of using I am so disappointed in:
1) Absence of UPS mode. They have a bypass but not TRUE bypass, hence you will reduce the lifespan of your batteries by using it.
2) Batteries used in this station allow for 3000+ charge cycles before the capacity drops to 80%. Other powerstations use batteries that withstand 6000+ cycles before the same happens.
3) Solar charging limited to 850 watts, whereas competitors offer up to 2kwt input
4) No way to control it via wifi, only Bluetooth (other brands do offer it)
5) Price. After so many features missing, the $2000 price is soo far from its actual value.
On the good side though:
A) still loving the design (unfortunately I fell for it)
B) the protective hardware seems to be working well and is well suited for reliable use even with zero experience in electricity.
This is all the feedback you will ever need for this device. If only I knew and looked into this before I bought it, I would have never chosen AC200MAX.
Capable of 1400W Solar Input with DC Enchancer
I absolutely love my AC200Max. I have 1 635W (3x 545W) Solar Panels on the Roof. And I could not find any Power Station that could handle that for around 1800euro. But AC200MAX can! I use 900W (2 panels) via MPPT and 500W (1 panels) via DC Enhancer. For that power, there is no competition. It powers my Boiler, AC, dryer, and Washing Machine and charges my Ryobi. And connected to Home Assistant via Bluetooth. It just works how I hoped it would. Absolutely love it.
Amazing fast shipping, will order again other unit!
Great product
It would be amazing to have wifi included (or at least as an extension), also to have more expansion ports at the cost of reducing/excluding battery from the unit because it is heavy. Still it's the most portable station with amazing capacity and power compared to the competition.
How-to
A useful guide to making the most of it all.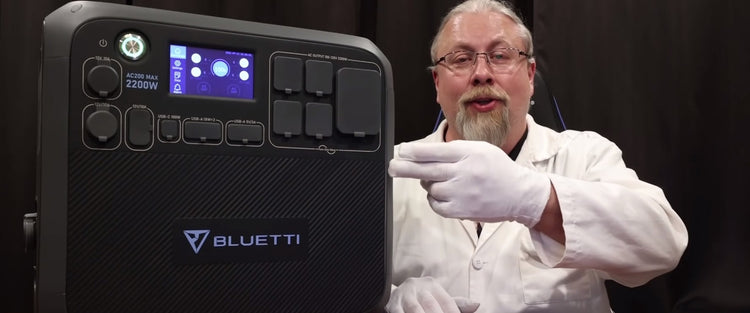 Product Application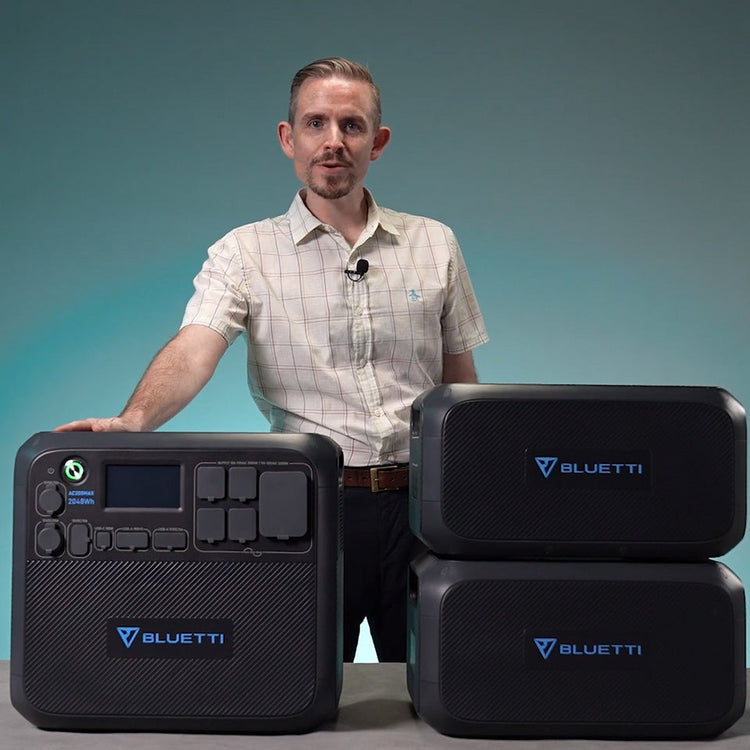 How to connect AC200MAX with either B230 or B300 Battery Modules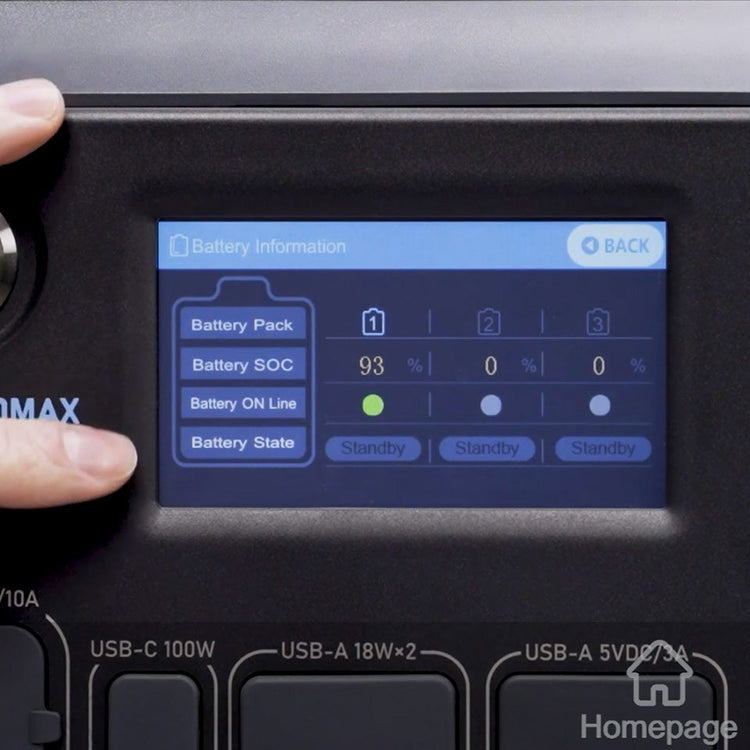 AC200MAX Touchscreen Manual
How to recharge AC200MAX via solar panels