BLUETTI EP500 Solar Power Station | 2000W 5100Wh
---
5100Wh LiFePo4/2000W PSW Inverter,6000+Charge Cycle
Movable Power Station
In-grid UPS Mode&Flexible UPS Mode(24/7)
Off-grid Energy Storage
Multiple Devices Can Be Loaded Simultaneously
Flexible Recharging Way To Keep Your EP500 Always On
App Remote Control
Smart Touchscreen
---
You can earn BLUETTI BUCKS (Value about €) for completing your purchase!
---
30 Days Price Match Guarantee
BLUETTI guarantees that we will refund you the difference if you find a lower price from us within 30 days of your purchase.
Notes:(To get the price differences for your order, the following requirements must be met)
1. Valid purchase history within 30 days.
2. Take a screenshot of the lower price and email us, we'll refund the differences as soon as we confirmed it.
---
5-year Hassle Free
Warranty
All-in-one Backup Power Station
The BLUETTI EP500 is shipped with a ground-breaking 5100Wh LiFePO4 battery pack and a 2000W rated pure sine wave AC inverter. This class-leading power station brings you the power to run your entire party, family camping trip, cabin workshops, or even your whole house for a day or two in the event of an unexpected outage. Up to 13 outlet sources allow you to power anything from laptops and air conditioners to your electric vehicles without breaking a sweat.
Safe, Smart, And Continuously Evolving
The advanced Battery Management System and LiFePO4 chemistry bring the EP500 incredible safety and durability. With the built-in dual-core microcomputer and Internet connection, the EP500's firmware can be upgraded through your internet connection. There is no best, only better!
Seamless UPS Backup
The EP500 will automatically become your home energy source for essential loads when the electrical grid goes down. Unlike gasoline generators, the BLUETTI EP500 keeps your lights on and laptops charged without upkeep, fuel, carbon monoxide or annoying noise. Pair with up to 2400W MPPT solar input to rapidly recharge or to keep your appliances running without depleting the onboard battery. Remember when you had to worry about a power outage? Worry no longer, Meet BLUETTI EP500.
How to use the EP500
Designed as a flexible power station to meet various scenarios, the EP500 Series has different usages.
Specifications
General Information
---
50*30*76cm (22,8*11,8*29,9in)
---
Storage Ambient Temperature:
---
Working Environment humidity:
---
UL2743, UKCA, RCM, PSE, TELEC, FCC, CE
---
Superior Grey, Elegant White
---
Output Specs
---
2*Quick Charging, 36W Total
2*5VDC, 3A Total
---
Bisher ganz zufrieden
Ich besitze einen EP500 seit ca. 2 Monaten und betreibe ihn zusammen mit 900W Solarpanelen, um mein Büro vom Netz entkoppelt zu betreiben. Außerdem lade ich damit noch diverse Kleinverbraucher und meine E-Bikeakkus. Das funktioniert zumindest jetzt im Sommer wirklich gut. Wir haben gerade immer genug Sonne, um den Speicher gefüllt zu halten (ca. 50° nördl. Breite). Ich habe im Büro tagsüber ca. 100-150W AC-Last (Laptop und Monitor). Nachts läuft nur der Router mit ca. 15W. Damit überbrücke ich auch schon mal 2-3 Tage trübes Wetter, danach wird es knapp - mehr dazu bei den negativen Punkten.
Was mir gut gefällt:
- Das Gerät hat wirklich genügend Anschlußmöglichkeiten für Verbraucher.
- Der Lüfter läuft nur bei Bedarf und ist auch dann erträglich in der Lautstärke. Ich bin aber trotzdem froh, dass ich den EP500 nicht direkt im Büro stehen habe.
Neutral:
- Die APP zeigt zwar die wichtigsten Daten an, aber man kann den Verlauf der Lade- und Entladeleistung nicht grafisch darstellen lassen. Vielleicht folgt ja dazu irgendwann ein Update - schön wäre es.
- Es wird mit OTA-Firmwareupdates geworben. Wenn ich nichts übersehen habe, gab es dazu aber noch nichts.
Ein paar negative Punkte:
- Mir erscheint der Eigenstrombedarf über Nacht mit ca. 10 bis 15 Prozentpunkten etwas hoch.
- Die angeschlossene AC-Last wird ungenau angezeigt. Ich habe den Eindruck, dass statt der Wirkleistung die Blindleistung zur Anzeige kommt.
Ich bin mal gespannt, was das System in den Wintermonaten so bringt. Aber das ist (bis auf den Eigenstrombedaf des EP500) eher eine Frage des Wetters und der Solarpanele. Im Sommer macht es jedanfalls Freude, mit Sonnenstrom ein paar Kilowattstunden Strom zu sparen, wobei ich mir natürlich bewusst bin, dass sich die Investition ökonomisch nicht rechnet.
How-to
A useful guide to making the most of it all.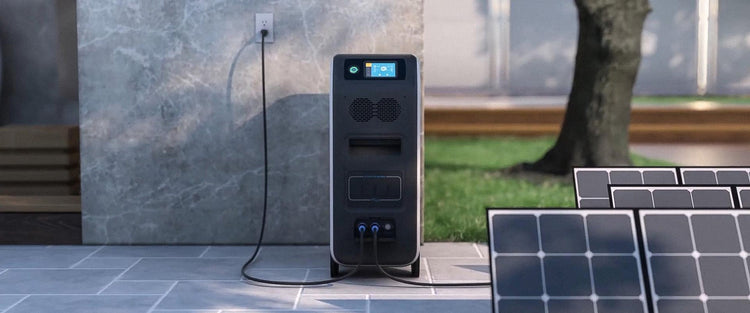 Product Application