BLUETTI EB70 + PV120 Solar Generator Kit
948,00 €
998,00 €
On sale
Tax included.
---
Massive 716Wh capacity and 1000W rated wattage
The ultra-stable LiFePO₄ battery chemistry,2500+ life cycles
2*230V AC outlets, 2*100W PD ports, 2*5V/3A USB-A ports, 2*regulated 12V/10A DC outputs, 1*12V/10A car port,1*15W wireless charging pad.
With max input of 200W, this power station can be fully recharged in 3-4 hrs with solar panels (OCV 12-28V, 200W)
It can also get fully recharged from an AC wall outlet in 3-4 hrs or a 12V car port in 7-8 hrs.
---
You can earn BLUETTI BUCKS (Value about €) for completing your purchase!
---
30 Days Price Match Guarantee
BLUETTI guarantees that we will refund you the difference if you find a lower price from us within 30 days of your purchase.
Notes:(To get the price differences for your order, the following requirements must be met)
1. Valid purchase history within 30 days.
2. Take a screenshot of the lower price and email us, we'll refund the differences as soon as we confirmed it.
---
2-year Hassle Free
Warranty
Stay Powered, Wherever Life Takes You
The EB70 portable power station was born from ultimate innovation and stay-of-the-art technologies. It features the 1000W power inverter and 716Wh LiFePO4 battery pack, which is enough to power your essentials on the road or during power outages.

Power All Loads For The Road
10 output ports are sure to meet your needs for charging different devices simultaneously. A 15-watt wireless charging pad at the top greatly facilitates the charging of cellphone. From mini-refrigerators to LED lights, it is a great storage option for camping and emergency use.

Designed For Life On-the-go
Power multiple devices Such as LED lights, fans, projectors and more, build a movable theater, enjoy a movie feast with your family during the camping or RV trip.

Easy Portability, Endless Possibility
With a built-in ergonomic handle design, it can be easily lifted and moved with just one hand. An excellent backup power source to rest assured without worry about running out of power or an unexpected power failure.
A Must-have Camping Partner
As compact as 32*21,6*22,1cm of dimension and weights only 9,7kg, EB70 is designed for campers or hikers, which can power almost all your essentials on the road. From your phone, laptop to an electric cooker. It can simply be charged by solar panels, thus you do not have to worry about electricity consumption at all.

Specifications
BATTERY INFO
---
2.500+ Cycles to 80% Original Capacity
---
Recharge to 80% Every 3-6 Months
---
MPPT Controller, BMS, etc.
---
OUTPUT
---
Full Bright/Half Bright/SOS Flash Mode
---
INPUT
---
200W Max., VOC 12-28V, 8A
---
12/24V from Cigarette Lighter Port
---
RECHARGE TIMES
---
fully recharge from 0-100% in 5-6 hours.
---
fully recharge from 0-100% in 7-8 hours.
---
12V/24V Car Outlet (100W/200W):
---
GENERAL
---
12,6 x 8,5 x 8,7 in (32 x 21,6 x 22,1cm)
---
In The Box
BLUETTI EB70 + PV120 Solar Generator Kit MANUAL
Download Now
Great hardware
After few weeks of testing, I can not find weak points. Very useful hardware, specially for outdoors. Enough capacity even to charge me eBike!
Good but not great
Bought EB70 + 120W Solar Panel Kit during Black Friday sale. Didn't receive solar panel yet but EB70 is already on my hands and I'm fairly satisfied with it. It is OK for my needs which is to power up Wi-Fi router, laptop, TV, refrigerator and charge my phone.
Pros:
- Good value for money;
- LiFePo Batteries;
- Build quality (good plastic, size, ergonomics, etc);
Cons:
- Display is not informative enough. Battery indicator has 20% steps and no time until full discharge under current consumption is shown;
- Unpleasant plastic smell during charge and discharge, which will hopefully go away after a few cycles;
- A giant power adapter with its own cooling fan which never stops working. Even when there is no charging happening. Really annoying.
Super handy, relatively small
Not the most powerful device but delivers what I expected. Handy when camping but may also come in handy at home as a backup power solution for if it is needed this winter...
Batterie très silencieuse en fonctionnement. Dommage que son chargeur secteur soit lui très bruyant
Great product
Bought this for my camper van. Delivered to sweden within a week. Tried it last weekend and it's great. Charged up quickly both from car and solar. Little anoyed the info panel turns of so quickly 😉 I want to see how many Watts I get from the solar. Other than that, no complaints so far.
How-to
Product Application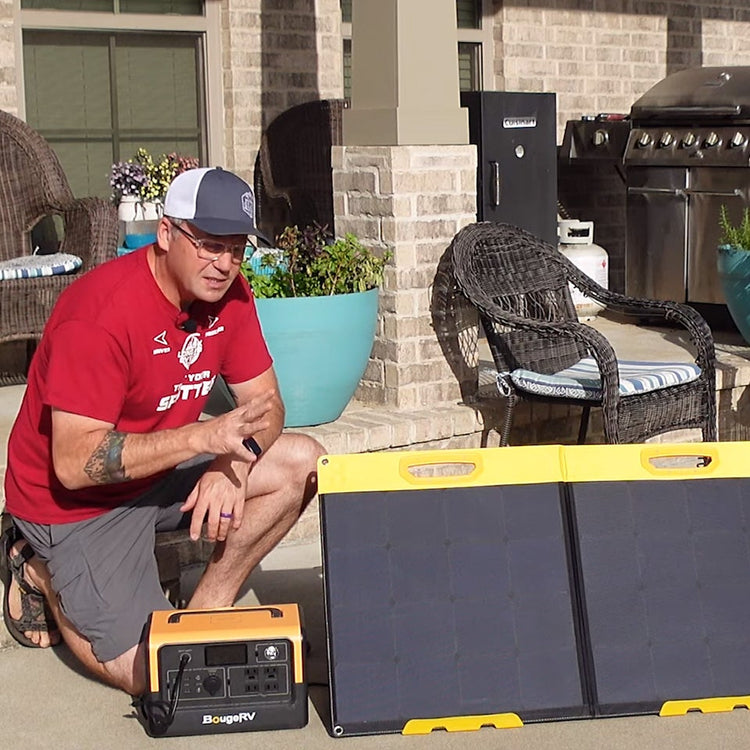 The Professor reviews the BLUETTI EB70 power station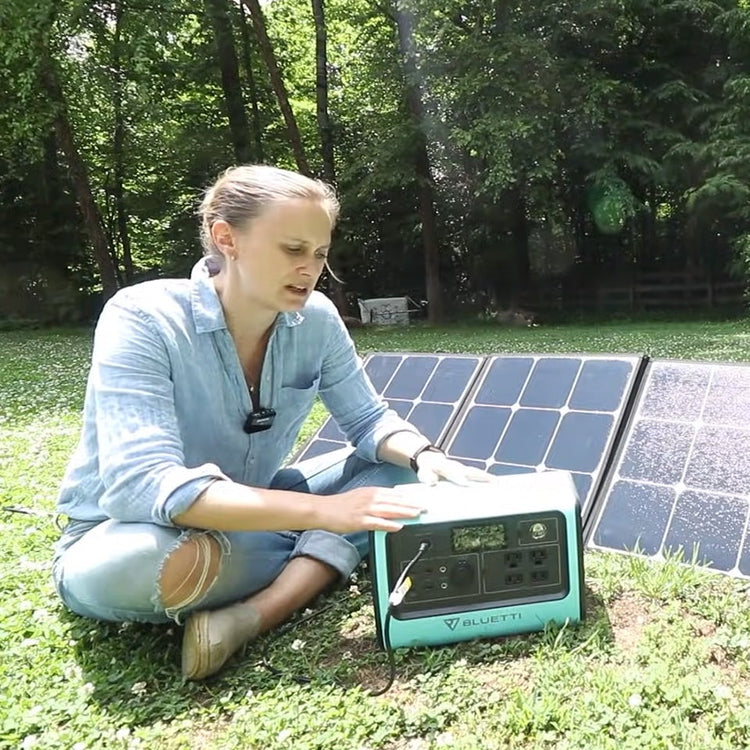 What can you actually use BLUETTI EB70 for?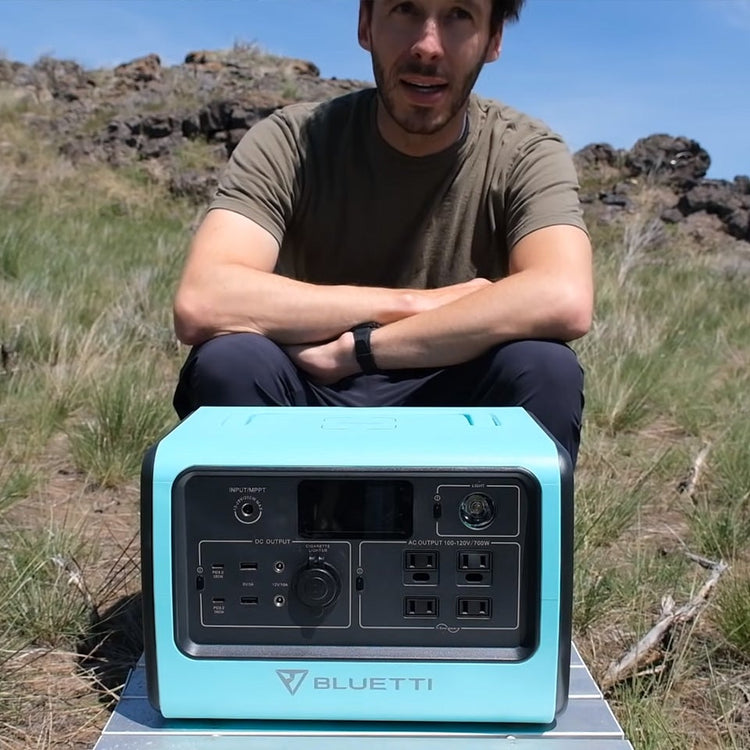 EB70 Portable Power Staions Review