BLUETTI B300S Expansion Battery | 3072Wh (Only Works With AC500)
---
Safe & reliable LFP battery with 3.500+ life cycles.
Standalone power station with 100W USB-C, 12V/10A car port and USB-A port.
Responsive even on freezing days with Self-heating Function.

Compatible with AC500 for a maximum of 18.432Wh capacity.​ (AC500+6*B300S)​
---
You can earn BLUETTI BUCKS (Value about €) for completing your purchase!
---
30 Days Price Match Guarantee
BLUETTI guarantees that we will refund you the difference if you find a lower price from us within 30 days of your purchase.
Notes:(To get the price differences for your order, the following requirements must be met)
1. Valid purchase history within 30 days.
2. Take a screenshot of the lower price and email us, we'll refund the differences as soon as we confirmed it.
---
4-year Hassle Free
Warranty
Expandable Battery Pack
B300S has a 3.072Wh capacity and lasts 3.500+ cycles to 80% of its original capacity. Hook up 6 B300S packs with AC500, and you'll get a massive powerhouse with 18.432Wh, enough to power up your RV, off-grid life, and get you through a severe power outage.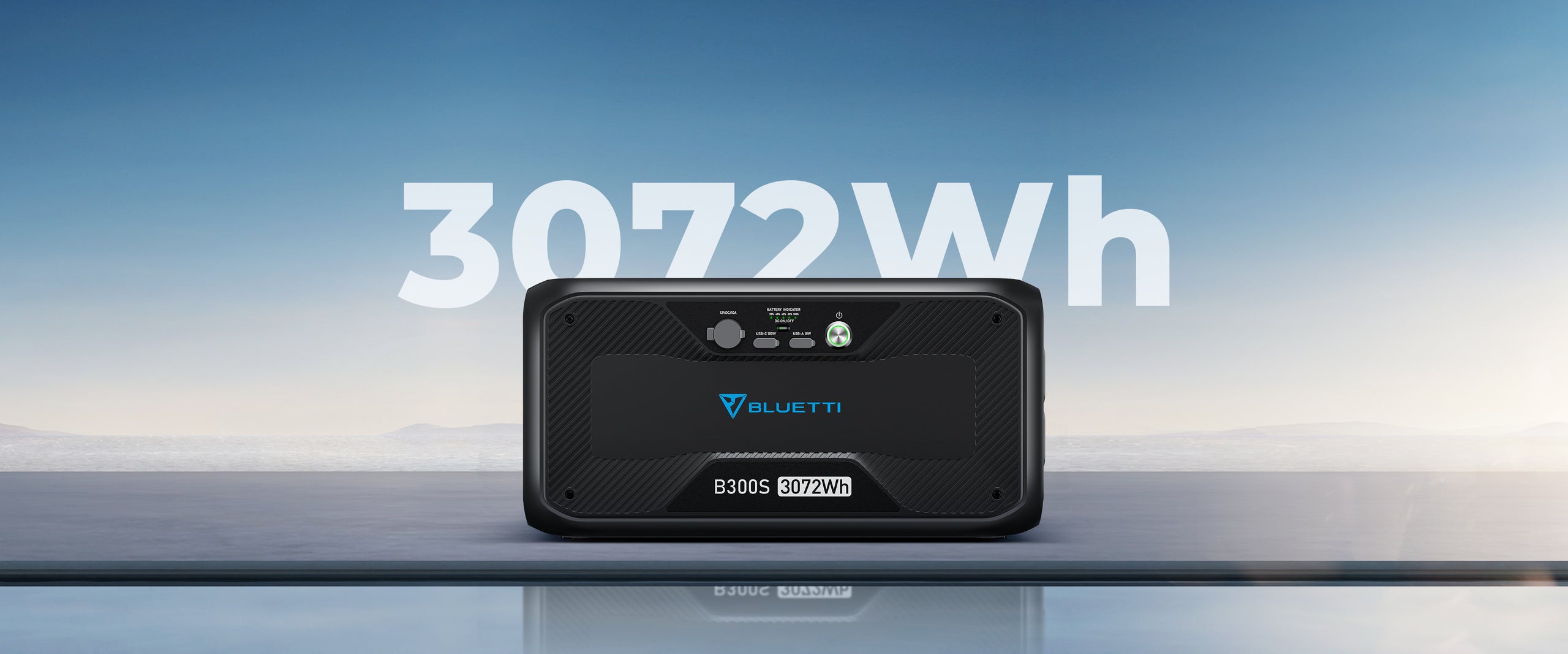 Responsive Even in the Cold
Waking up electronics on a freezing day may be time-consuming. But with the Self-heating Function, B300S will automatically heat up the battery to ensure it can work actively and smoothly as usual.

Note: Self-heating Function won't be activated if the ambient temperature is under -4℉.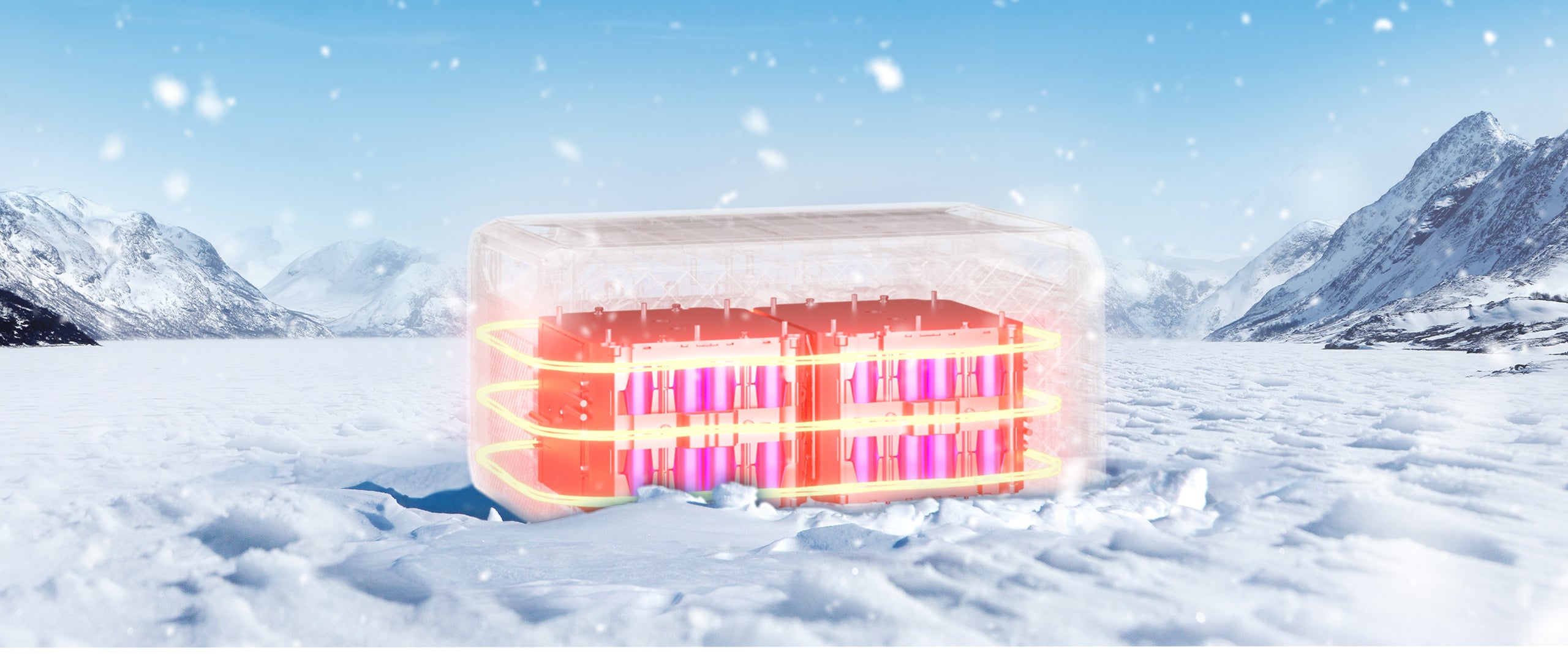 Standalone Power Source
More than an expansion battery pack, B300S can be used as a standalone power source as it features versatile outputs - 100W USB-C, 12V/10A cigarette lighter, and 18W USB-A to feed your smartphones, laptops, fans, lights, refrigerators, and more.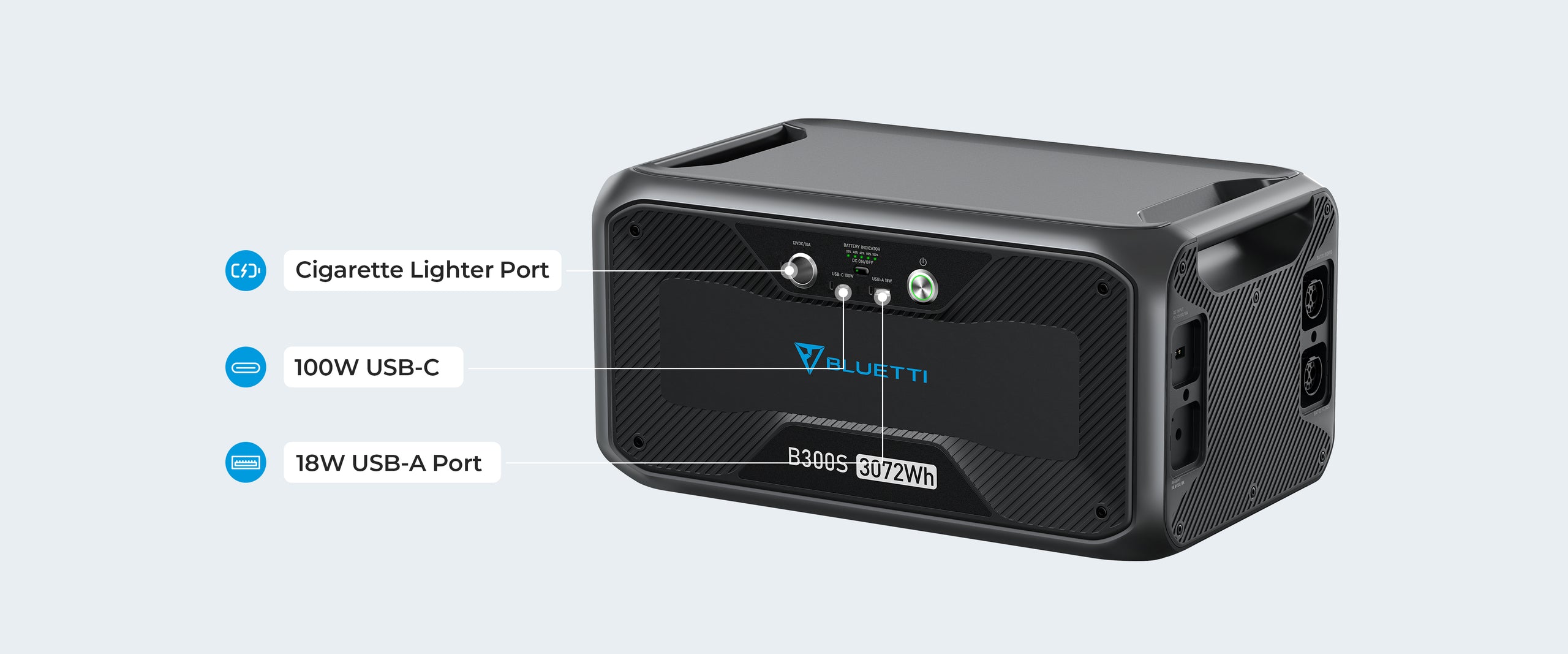 Blazing Fast Recharging
Faster is always better. Charge your B300S in 4 hours* at the maximum of 1.000W input rate by 1.000W Solar input* or 500W adapter with 500W solar input.
* The data is for reference only.
* The D050S DC charging enhancer is required.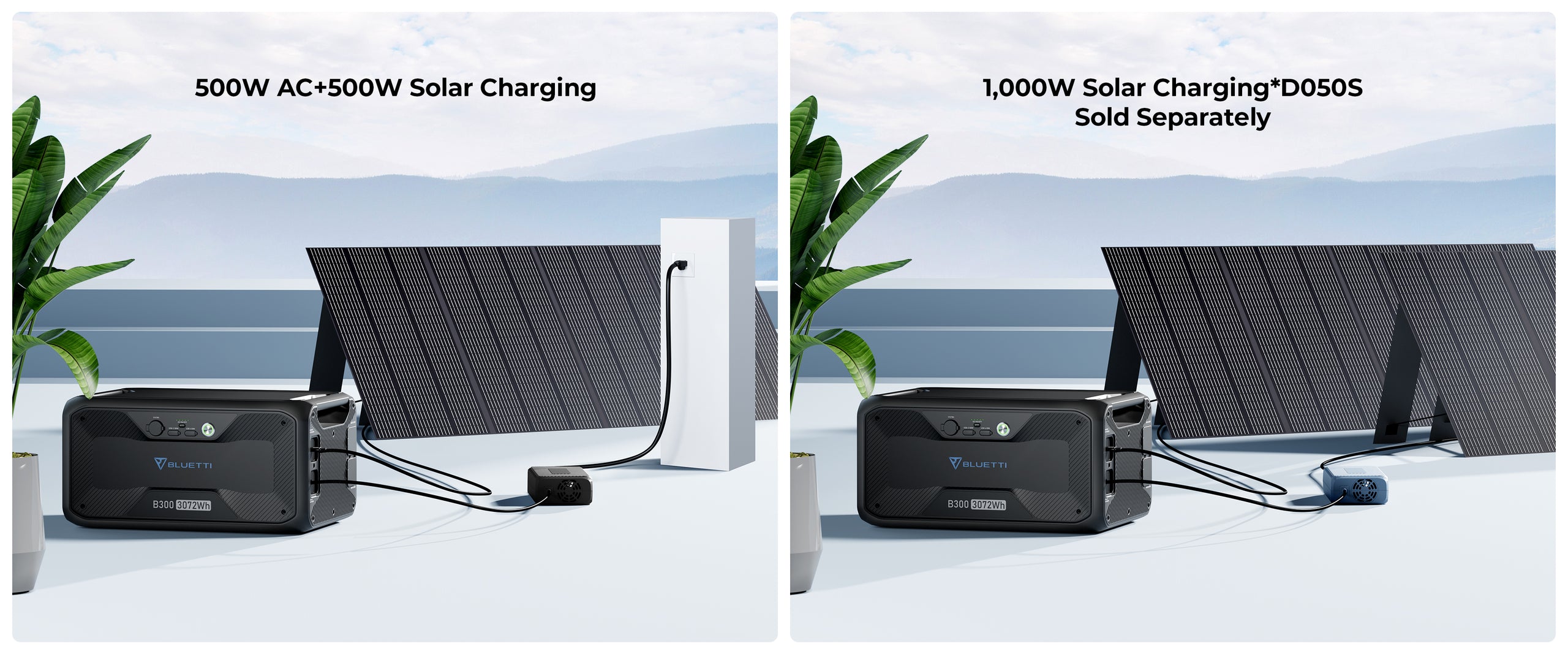 Flexible Recharging
BLUETTI B300S takes up to 500W AC, solar, or car charging.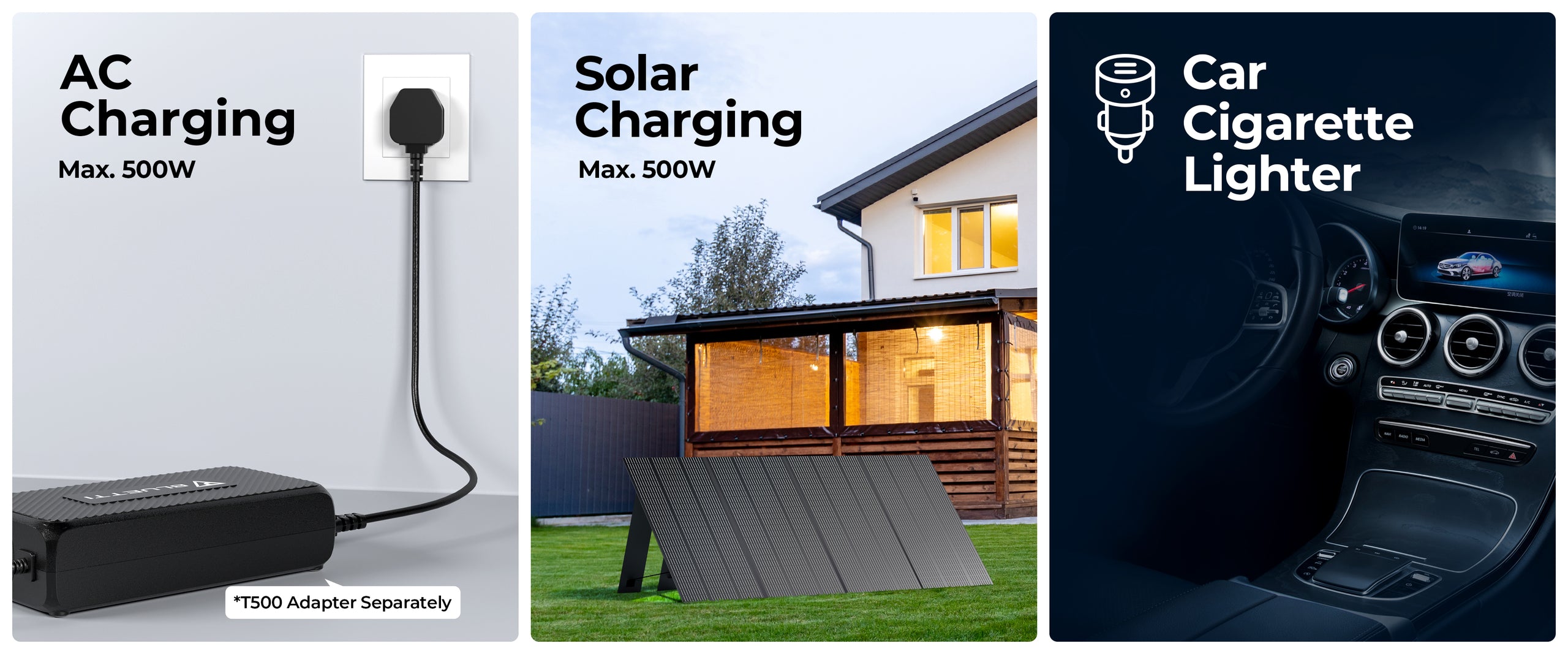 Never Run Out of Power
AC500 powers your devices like a gas generator, but without any fuel costs, noise, and pollution,
making it safe enough to use next to you whether you're at home, pitching a tent, or trying an RV road trip.
Specifications
BATTERY INFO
---
3.500+ Cycles to 80% Original Capacity
---
Recharge to 80% Every 3-6 Months
---
MPPT Charge Controller, BMS, etc.
---
OUTPUT
---
1 x 12V (Car Outlet)
*All regulated.
---
INPUT
---
500W Max., VOC 12-60VDC, 10A
---
12/24V from Cigarette Lighter Port
---
1.000W, with D050S DC Charging Enhancer
---
GENERAL
---
Simultaneous Recharge & Discharge:
---
20,5 x 12,5 x 10,5in (52 x 32 x 26,6cm)
---
UL2743, UKCA, RCM, PSE, FCC, CE
---
In The Box
BLUETTI B300S Expansion Battery | 3072Wh (Only Works With AC500) MANUAL
Download Now
Pricier than B300
The battery is certainly good. In our case, we have no use for more than 2 or 3 batteries, so we don't benefit from the increased number of batteries that can be connected together. Moreover, the extra cost related to the self-heating feature isn't useful in our case either. So we only pay the higher price tag as this battery is the only one compatible with the AC500 - which offers the extra power we need compared to AC300.
How-to
A useful guide to making the most of it all.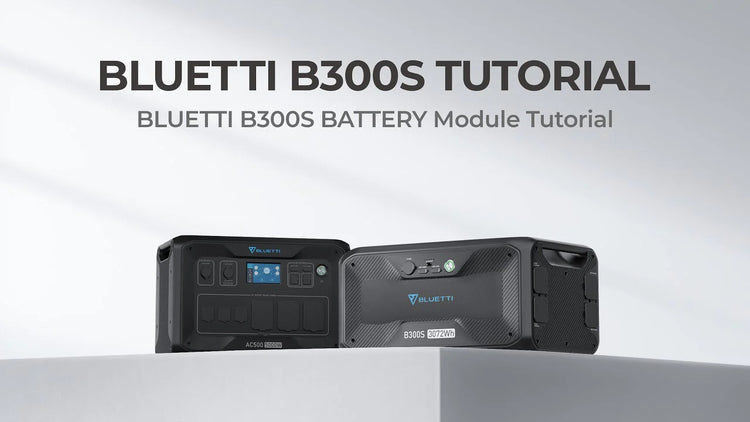 B300S | Battery Module Tutorial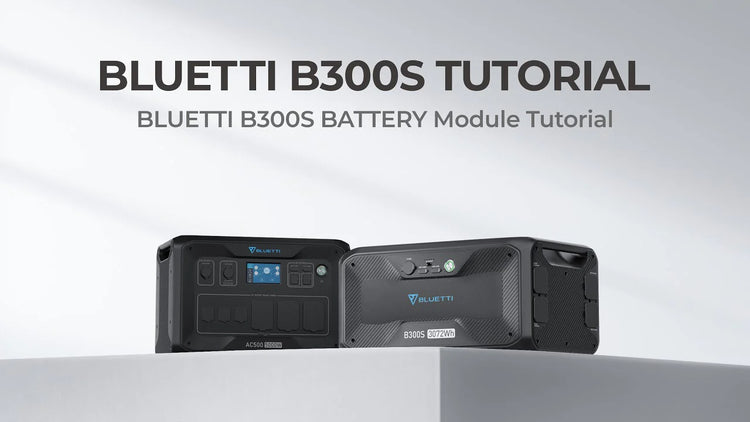 B300 | How to connect the B300/B300S to AC500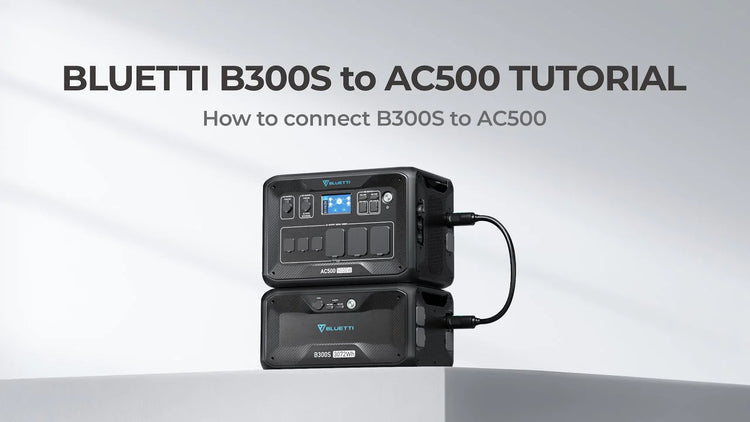 How to connect B300S to AC500?