BLUETTI PowerOak AC200P Series Solar Generator Kit
2.899,00 €
3.099,00 €
sale
---
2000W AC Pure Sine Wave Inverter (4,800W Surge)
2000Wh/2000W Higher Output/Larger Capacity
13 Output Ports Meet Multiple Devices
Flexible 5 Recharge Ways(AC/Solar/Car/Generator/Lead battery/Dual AC/AC+Solar)
Smart Touchable Interaction LCD Display
700W Solar+500W AC Recharge in 2-2.5Hrs
Dual AC adapter(500W) Fast recharge in 2-2.5Hrs
Eco-friendly/Gas free/Quieter/Cost-effective
---
---
2-year Hassle Free
Warranty
Meet All Your Needs, Anywhere, Anytime
With a high AC inverter load of continuous 2000W and Surge 4800W, BLUETTI AC200P features a massive 2000Wh capacity to power your equipment. No more worry about power outages interrupting your work. No matter where you are – at home, in your backyard, on a worksite, in the bush, or on a road trip, you can rely on AC200P for credible power supply.

Coffee Maker(800W)
2+ Hrs

Electric Grill(1650W)
1 Hrs

Refrigerator (800W)
2.1+ Hrs

Hair Dryer(1600 Btu)
1+ Hrs

CACP(60W)
28+ Hrs

Light(10W)
170+ Hrs
Multiple DC & AC Outputs, Versatile Recharging
AC200P has various AC/ DC outlets, which will give you the best of both worlds for the price of one. You can alternate among each output depending on your device. You don't have to stop using one piece of equipment for another – you can charge up to 13 devices simultaneously. Besides, on the top, there are two wireless charging pads to power your smartphone.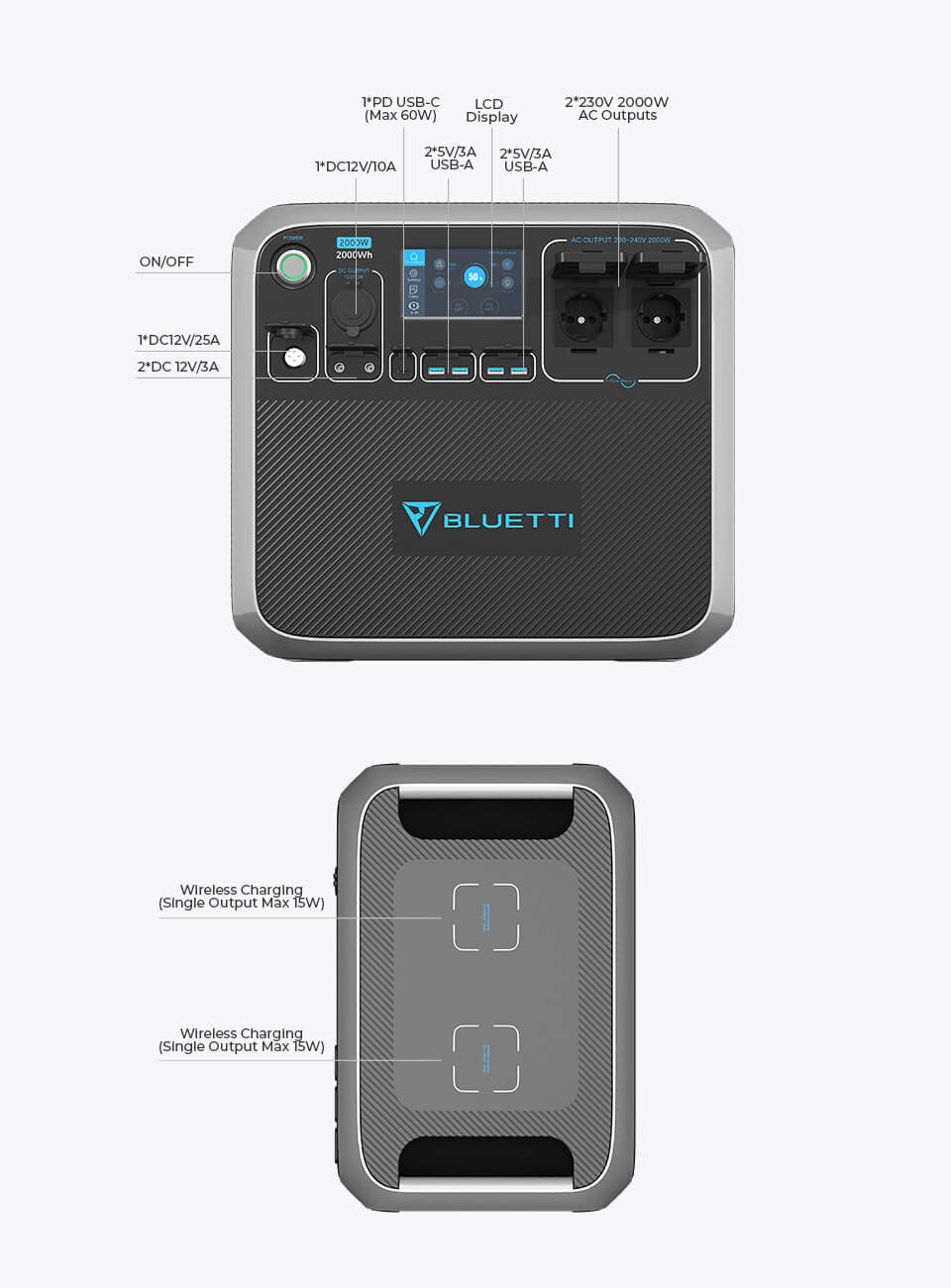 An Ideal Solution for Both Outdoor/ Indoor Use
BLUETTI AC200P can run most of your essential outdoor/indoor appliances and electronics such as Blenders, Ice coolers, Radios, Projectors, and more. In the event of unexpected blackout, it's also perfect as a home backup system especially in some areas with unstable voltage.
Superior Capacity
As large as 2000W capacity, it's capable to power up your devices for hours, a great power source for camping, van life, and more.
A Remarkable Necessity For Life
Meet your different needs in different scenarios.
Specifications
BATTERY INFO
MPPT Charge Controller, Low Battery Protection
---
PORTS
1*PD 60W USB-C Faster Charge
---
GENERAL
Operating Usage Temperature:
CEC, DOE, FCC, QC3.0, CA Prop 65
---
BLUETTI PowerOak AC200P Series Solar Generator Kit MANUAL
Download Now
How-to
A useful guide to making the most of it all.
Product Application
BLUETTI AC200P Portable Power Station Q&A!
How does the AC200P increase your solar charging through the D050S?
How to connect B300 or B300 with AC200/P&EB200/P